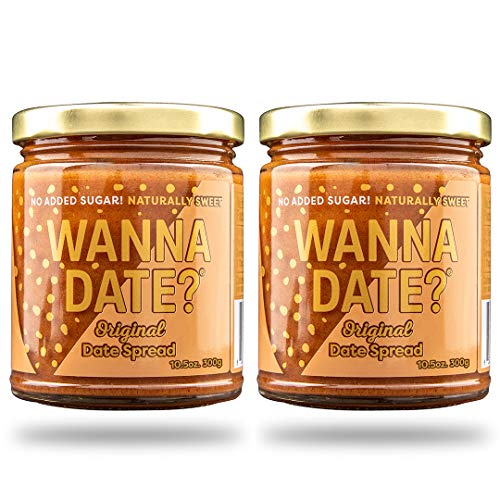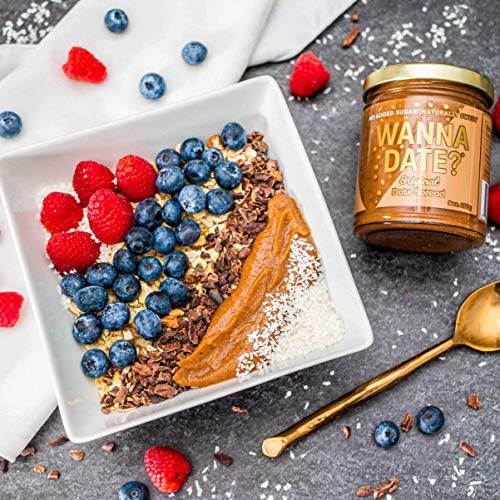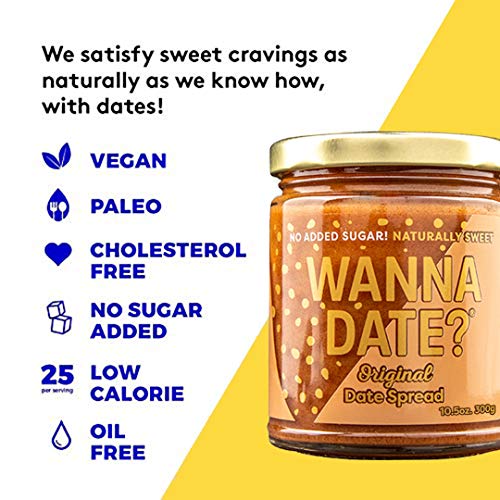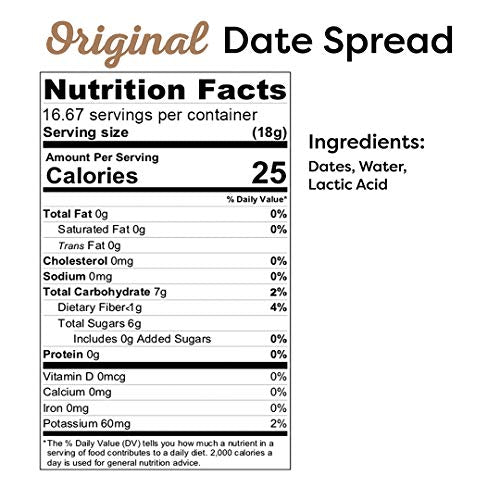 ---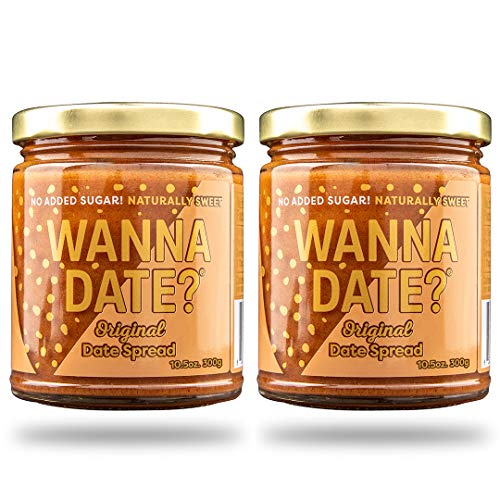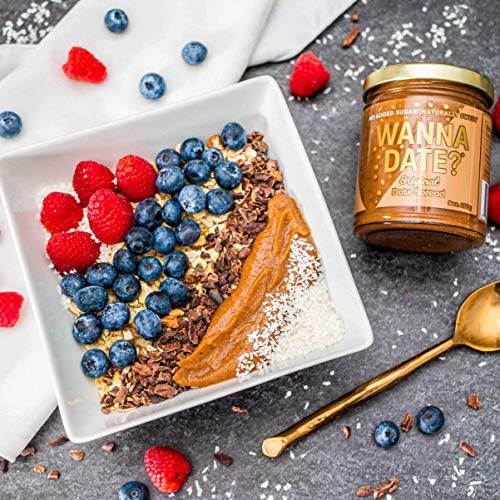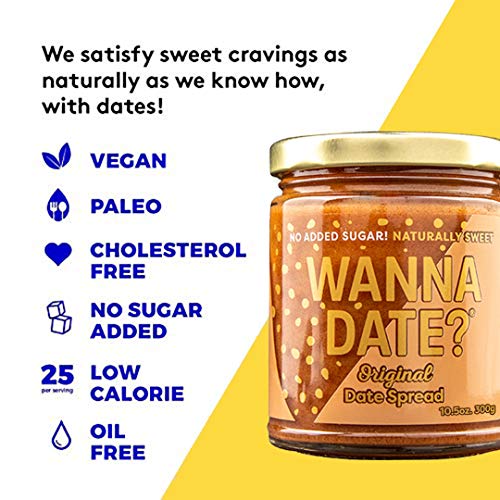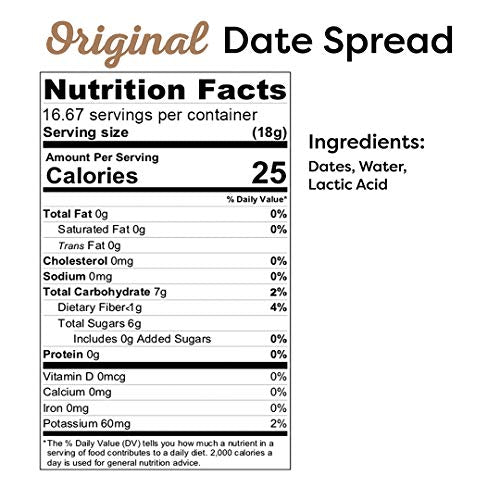 Original Date Spread (2 Jars)
Acid Reflux
Breakfast
Dinner
GERD
Grocery
IBS
Lunch
Snacks
$23.99
Foodguides Review
Fruit spreads are an excellent low-calorie choice to satisfy your sweet cravings while receiving added benefits such as potassium.
Friendly To:
GERD
IBS
Buy on Amazon
Hi everyone, I'm Melissa of Wanna Date? as seen on Shark Tank recently. I enjoy long walks down the aisles of Whole Foods and eating my body weight in fruit. Dates especially; they're my absolute favorite. I had my first date (Talking about the fruit...I'd been on dates before) when I moved to New York City for college and it was love at first bite. Dates are SO sweet and SO good for you! Better yet, dates have kept all of my unhealthy sugar cravings away. Overtime I found myself feeling so much happier and energized now that I could finally eat something sweet (and freaking-delicious) that didn't leave me feeling guilty.
Food guilt was something I struggled with for years. After bouncing around a few internships (one was at a PR agency, one was at Seventeen Magazine, but my favorite one had been at a food startup) I decided to get a job at a smoothie and acai bowl shop near campus. Primarily to eat free fruit all day long while getting paid and learning the ins and out of the amazing, ever evolving food industry. During my very first shift at that acai bowl shop, I was shocked and disappointed when I saw that all of the acai we served was sweetened with added sugar. Over 15 grams per half cup! As if that wasn't bad enough, we would pour honey, agave, oily nut butters, even milk chocolate and hazelnut spread on top of the bowls.
Smoothies and acai bowls are supposed to be healthy, but there was added sugar and/or sweeteners in nearly everything! The acai was sweetened, the granola was sweetened, and the nut milks were too. Add all of that added-sugar up and you might as well just eat a pint of ice cream. One day I wondered why we didn't simply sweeten our blends with dates. Dates are healthy, naturally sweet, and maybe there was a way we could drizzle the dates on the bowls like honey or peanut butter. So I went looking around stores and online for a date butter kind of product, but it didn't exist. Light Bulb!
ORIGINAL DATE SPREAD FLAVOR, Three simple ingredients include Deglet Noor dates, water, and lactic acid. Only 25 calories per serving, allergen friendly, added-sugar free, nut free, soy free and a great tasting guilt-free healthy treat.
WHAT IS DATE SPREAD? In a word: awesome. It is a similar concept to fig, apple, or nut butter, only date based. We mash up dates, water, and our favorite flavors to create wholesome, sweet and creamy spreadable dates so you can ditch the added sugar!
WHY EAT DATES? A lot of people say that dates taste like caramel! Raw dates are one of the most delicious, naturally sweet, and low glycemic index fruits on the planet and a fantastic source of fiber, vitamins, and minerals.
ALL NATURAL SWEETENER for baked goods, sauce, and frosting recipes. Drizzle like syrup on apples, bananas, pancakes, waffles, yogurt, smoothies and more. Combine with bagels and cream cheese, pair with peanut & almond butter, or sizzle it on bacon!
EAT STRAIGHT FROM THE JAR when sugar cravings hit. Refrigerate after opening. We think it tastes better cold anyway! Serve on a nice charcuterie board or dress on salad. Great jam, jelly, maple syrup, or honey substitution if craving sugar sweets.
Package Dimensions: 6.5 x 4.8 x 4.7 inches
---
Foodguides Review
Fruit spreads are an excellent low-calorie choice to satisfy your sweet cravings while receiving added benefits such as potassium.
Friendly To:
GERD
IBS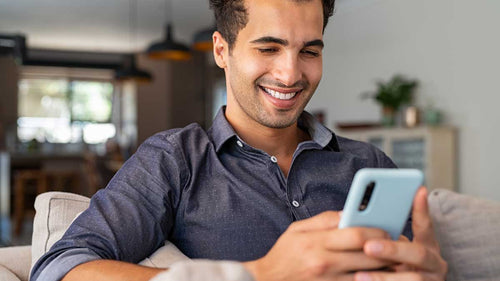 How to Use Foodguides for People with GERD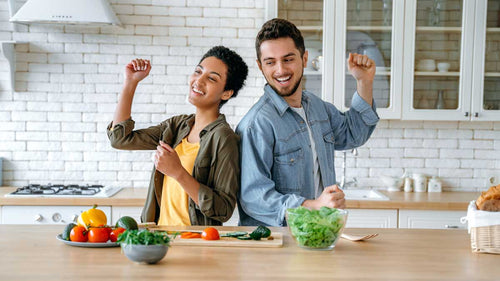 Gut Health for Happier Minds: Low FODMAP Foods and Mood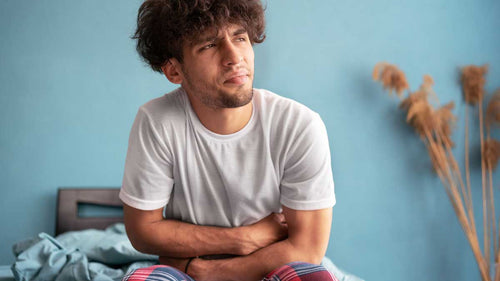 How to Soothe a Sour Stomach