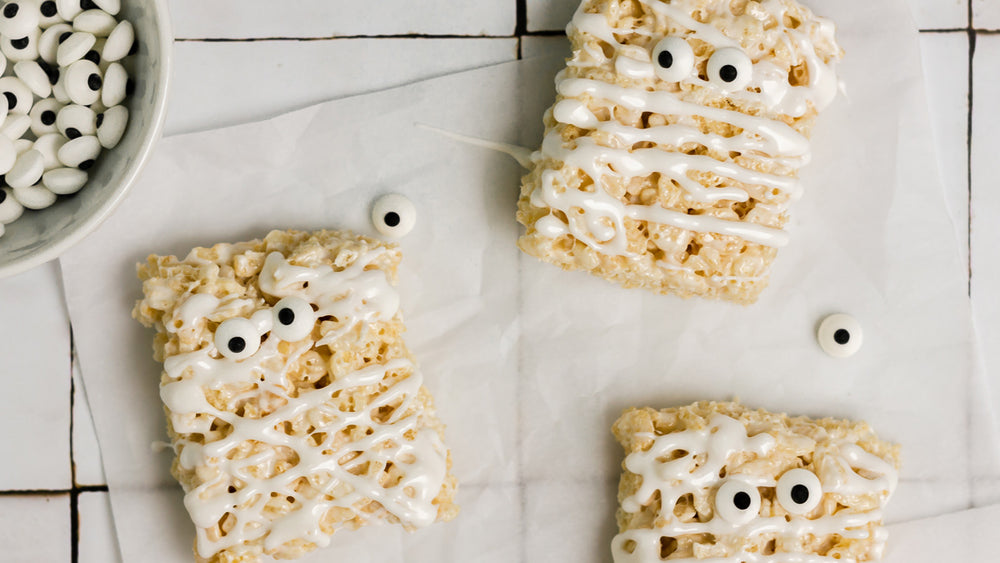 Low FODMAP Mummy Rice Krispy Treats
RECIPE
Published on Friday, October 13, 2023 by
---
Embrace the spirit of Halloween with a spooky twist on a classic treat: Mummy Rice Krispy Treats! 
These adorably spooky treats are not only fun to make but also easy on sensitive stomachs, thanks to a few swaps! Whether you're planning a Halloween party or simply looking for a creative and tummy-friendly treat, this recipe combines the perfect blend of nostalgia, fun, and digestive ease.
Ingredients for Low FODMAP Mummy Rice Krispy Treats
Rice Krispies Treats, the beloved marshmallow and cereal bars, are typically not considered Low FODMAP due to the inclusion of high-FODMAP ingredients like traditional marshmallows, which often contain high-fructose corn syrup. However, it's essential to understand that the key component, Rice Krispies cereal, is inherently Low FODMAP. Rice itself is a Low FODMAP grain and is generally well-tolerated by individuals with digestive sensitivities, including those following a Low FODMAP diet. 
To transform this nostalgic treat into a Low FODMAP version, one can make strategic ingredient swaps, such as using Low FODMAP marshmallow alternatives, thereby creating a FODMAP-friendly alternative that captures the same classic taste and texture. It's important to note that many marshmallows and marshmallow fluff products commonly contain corn syrup as one of their ingredients. However, it's crucial to recognize that corn syrup has not been extensively tested by Monash University, a renowned authority on FODMAP research. This means that individuals following a Low FODMAP diet may want to exercise caution when consuming products containing corn syrup, as its FODMAP content and tolerance levels may vary from person to person. 
The brand Toonie Moonie Organic Vanilla Marshmallow Creme (which is used in this recipe) contains tapioca syrup, which also has not been tested by Monash University but is to be believed as Low FODMAP. It's advisable to check ingredient labels and consider opting for Low FODMAP alternatives or specially formulated marshmallow alternatives if you have sensitivities to certain FODMAPs or are strictly adhering to a Low FODMAP diet for digestive health reasons.
Decorating Your Mummy Rice Krispy Treats
Turning your rice krispy treats into adorable mummies is the perfect treat for the Halloween season. Once you've molded your treats into rectangular or square shapes, it's time to don the mummy attire. Use melted white chocolate (ensure it's FODMAP-compliant) to artfully drizzle "bandages" across the top of each treat. Let your imagination shine here—the bandage design can be as neat or as whimsically disheveled as you like. 
Don't forget to bring your mummies to life by adding two edible googly eyes to each one, positioning them to give each mummy its own quirky personality. These googly eyes are readily available in many stores or online, and they add a delightful touch that makes your mummy treats both spooky and endearing. Whether you're making these for a Halloween party or just to enjoy with family and friends, the decorating process is where the real fun begins.
Variations and Substitutions
While the core recipe ensures a tummy-friendly experience, there's plenty room for customization and adaptation to suit your preferences and dietary needs. For instance, you can explore different cereal options, such as gluten-free rice cereal or puffed rice, to add unique textures and flavors. If you're looking to reduce sugar intake, consider substituting marshmallows with peanut butter. 
You can also get creative with your mix-ins, choosing from a variety of Low FODMAP options like chopped strawberries, blueberries, or finely shredded fresh coconut. For those seeking extra protein, incorporating Low FODMAP nuts such as macadamias can provide a delightful crunch. The key is to adapt the recipe to your liking while keeping it FODMAP-friendly for digestive ease.
[[ recipeID=recipe-8lnaeanqm, title=Low FODMAP Mummy Rice Krispy Treats ]]