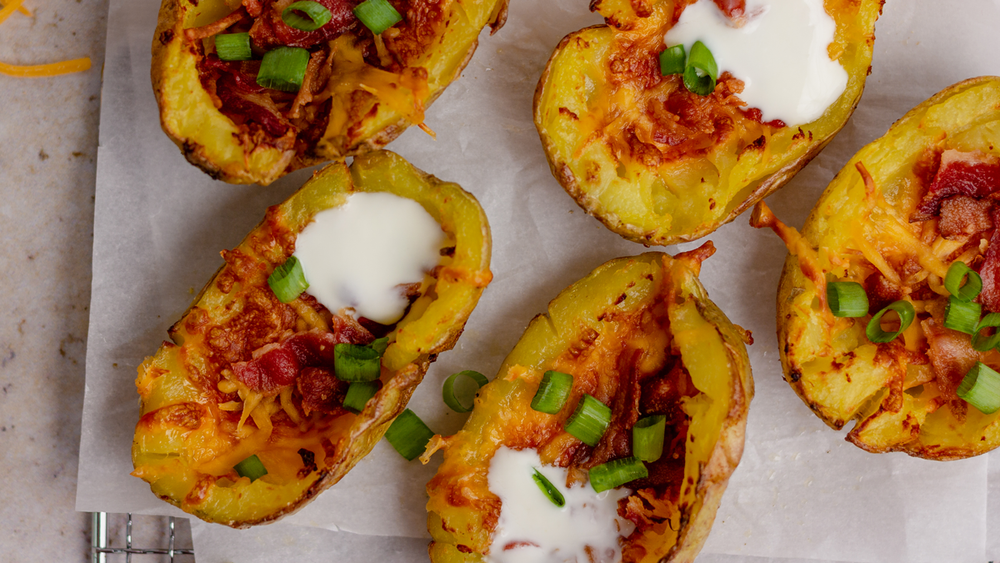 Low FODMAP Loaded Potato Skins
RECIPE
Published on Friday, September 22, 2023 by
---
Crafting Flavorful and FODMAP-Friendly Potato Skins: Creative Options and Pairings
Potato skins are not only a popular appetizer but also a good source of essential nutrients. These crispy delights are often enjoyed for their texture and versatility. Potato skins are essentially the outer layer of the potato that is left intact when cooking. They are rich in dietary fiber, which supports digestive health, and contain valuable nutrients such as potassium, vitamin C, and B vitamins. 
While their deliciousness is unquestionable, it's important to ensure that the preparation aligns with dietary requirements, such as the Low FODMAP diet for those with sensitivities.
Low FODMAP Potatoes
The good news is that all potato varieties are naturally low in FODMAPs, making them a versatile and safe option for individuals following a Low FODMAP diet. Potatoes contain minimal levels of fermentable carbohydrates, which means they are generally well-tolerated by those with sensitive digestive systems. Whether you prefer Russet, red, Yukon gold, or any other type of potato, you can enjoy them without worrying about FODMAP content.
However, portion control is still important, as consuming large amounts of any food can potentially trigger discomfort. Cooking methods, such as baking or roasting, can further enhance the suitability of potatoes for a Low FODMAP diet.
FODMAP-Friendly Fillings
Crafting delicious potato skins within the guidelines of a Low FODMAP diet involves selecting fillings that combine both taste and digestive comfort. Here's a lineup of FODMAP-friendly options to spice up your potato skins:
Seasoned Cooked Meat:

Elevate your skins with the savory goodness of seasoned turkey, beef, or chicken. For the classic potato skin combinations, try sprinkling bacon bits. When selecting Low FODMAP bacon, it's essential to check the ingredient label for any additives or high FODMAP ingredients, such as garlic or onion powder, as these can trigger digestive issues. Additionally, opt for bacon labeled as "uncured" or "natural" to reduce the risk of added FODMAP-rich preservatives.

Applegate Naturals Thick Cut Bacon

is an excellent Low FODMAP bacon option!

Cheese:

To add a touch of creaminess, opt for cheeses such as cheddar or mozzarella.

Fresh Herbs:

Sprinkle on the freshness with finely chopped chives, parsley, or basil.

Sauces:

  Drizzle Low FODMAP tomato-based sauces or garlic-infused oil.
Have fun mixing and matching these fillings, crafting yummy combinations while aligning with the principles of the Low FODMAP diet.
Serving and Pairing
Serving your Low FODMAP potato skins with compatible accompaniments can enhance the overall. Try pairing them with:
Dipping Sauces:

A simple Low FODMAP tomato salsa, BBQ sauce, or ketchup can add extra zest.

Side Salads:

A light spinach or arugula salad with a lemon vinaigrette can balance the richness of the potato skins.

Crunchy Crudités:

Present your potato skins with a colorful assortment of crisp vegetable sticks, such as carrots, cucumbers, and celery.

Buffalo Turkey Meatballs:

Spice things up by serving your potato skins with zesty buffalo turkey meatballs. These flavorful bites bring a hint of heat and a protein-packed twist to your meal.
Remember, the goal is to enjoy a well-rounded meal that satisfies your cravings while keeping FODMAPs in check.
Potato Skins Variations
Don't let dietary restrictions limit your creativity! Here are some variations to consider:
Smoky BBQ Bliss:

Infuse your potato skins with the allure of barbecue. Load them up with shredded smoked chicken, a sprinkle of green onions, and a brush of Low FODMAP barbecue sauce.

Mediterranean:

Fill your skins with tangy Kalamata olives, diced cucumbers, and a sprinkle of crumbled feta cheese. Top with a drizzle of lemon-infused olive oil for a Mediterranean-inspired delight.

Asian Fusion:

Embrace Asian flavors by stuffing your skins with marinated tofu cubes, julienned carrots, and sliced scallions. Finish with a touch of sesame seeds and a drizzle of gluten-free soy sauce.
Feel free to mix, match, and adapt these variations to craft your own signature Low FODMAP potato skins!
[[ recipeID=recipe-8llxtl44o, title=Low FODMAP Loaded Potato Skins ]]