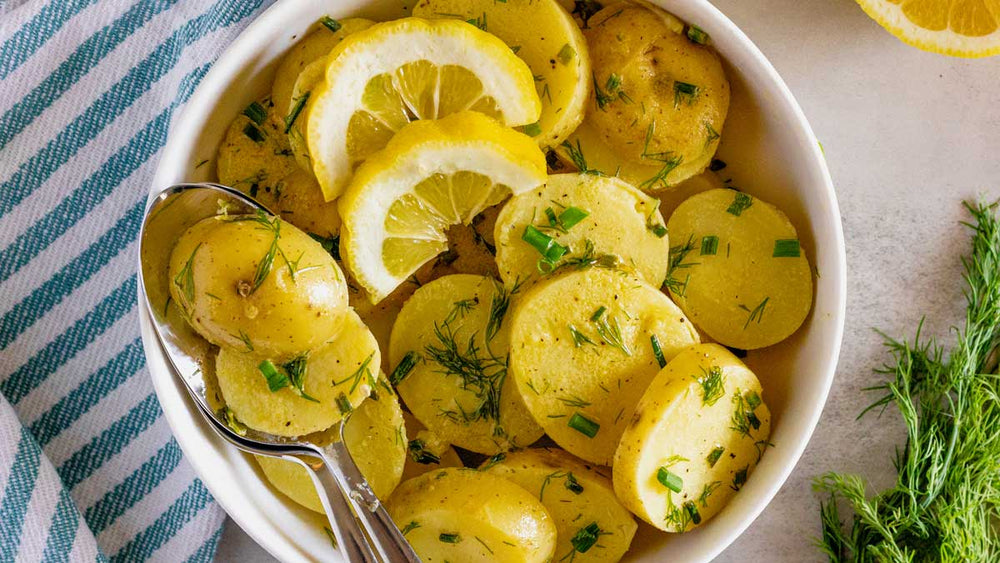 Low FODMAP Lemon Dill Potato Salad
RECIPE
Published on Wednesday, May 10, 2023 by
---
Potato salad is a classic summer dish that is perfect for picnics, barbecues, and family gatherings. 
However, for those following a Low FODMAP diet due to digestive issues such as irritable bowel syndrome (IBS), traditional potato salad recipes can be off-limits due to the high FODMAP content of ingredients like onions and garlic. Luckily, we have a delicious Low FODMAP dill potato salad recipe that not only tastes great but also provides several nutrition benefits for those with IBS.
Potatoes are generally considered low in FODMAPs, making them a great choice for those following a Low FODMAP diet. However, it's important to note that the way in which potatoes are prepared can impact their FODMAP content. For example, mashed potatoes made with milk and butter can be high in lactose, a FODMAP that should be limited or avoided on a Low FODMAP diet. In this recipe, we use a vinaigrette and avoid high FODMAP ingredients like onion and garlic to create a tummy-friendly dish.
Potato Nutritional Benefits 
Let's dive into the nutritional benefits of potatoes for IBS. Despite being often avoided by people with digestive issues, potatoes are actually a great source of several key nutrients that can support gut health. 
Here are some of the nutritional benefits of potatoes:
Resistant starch:

Potatoes contain a type of carbohydrate called resistant starch that is not digested in the small intestine. Instead, it reaches the colon where it can be fermented by beneficial bacteria. This

fermentation process

produces short-chain fatty acids (SCFAs), which can help to nourish the cells lining the colon and support overall gut health.

Vitamin C:

Potatoes are a good source of vitamin C, which is an antioxidant that can help to reduce inflammation in the gut.

Inflammation

is thought to play a role in the development of IBS symptoms, so consuming foods that are high in antioxidants like vitamin C may be beneficial.

Potassium:

Potatoes are also a good source of potassium, which is an

electrolyte

that helps to regulate fluid balance in the body. This is important for people with IBS as they may experience diarrhea or constipation, both of which can lead to dehydration and electrolyte imbalances.
Perfect Summertime Side 
With the gorgeous weather we've been having lately, this Low FODMAP Lemon Dill Potato Salad would make a great accompaniment to any of your outdoor get-togethers. You won't find any mayo-based dressings here - this side dish is all about staying light and refreshing. Not only is it easy to make, but it is also incredibly nutritious – potatoes are a great source of vitamin C, potassium, and resistant starch, making them a must-have in any balanced diet. 
If you're looking for an essential side dish for an upcoming picnic or barbecue meal, this Lemon Dill Potato Salad is sure to please! Don't forget to add a little extra lemon juice before serving to give it that extra zing. Serve alongside your favorite protein source and enjoy the deliciousness!
[[ recipeID=recipe-8lgwje4oa, title=Low FODMAP Lemon Dill Potato Salad ]]
DeMartino, P., & Cockburn, D. W. (2020). Resistant starch: impact on the gut microbiome and health. Current opinion in biotechnology, 61, 66–71.

https://doi.org/10.1016/j.copbio.2019.10.008

 

Dourado, G. K., & Cesar, T. B. (2015). Investigation of cytokines, oxidative stress, metabolic, and inflammatory biomarkers after orange juice consumption by normal and overweight subjects. Food & nutrition research, 59, 28147.

https://doi.org/10.3402/fnr.v59.28147

 

U.S. Department of Health and Human Services. (n.d.). Office of dietary supplements - potassium. NIH Office of Dietary Supplements. Retrieved April 25, 2023, from https://ods.od.nih.gov/factsheets/Potassium-Consumer/