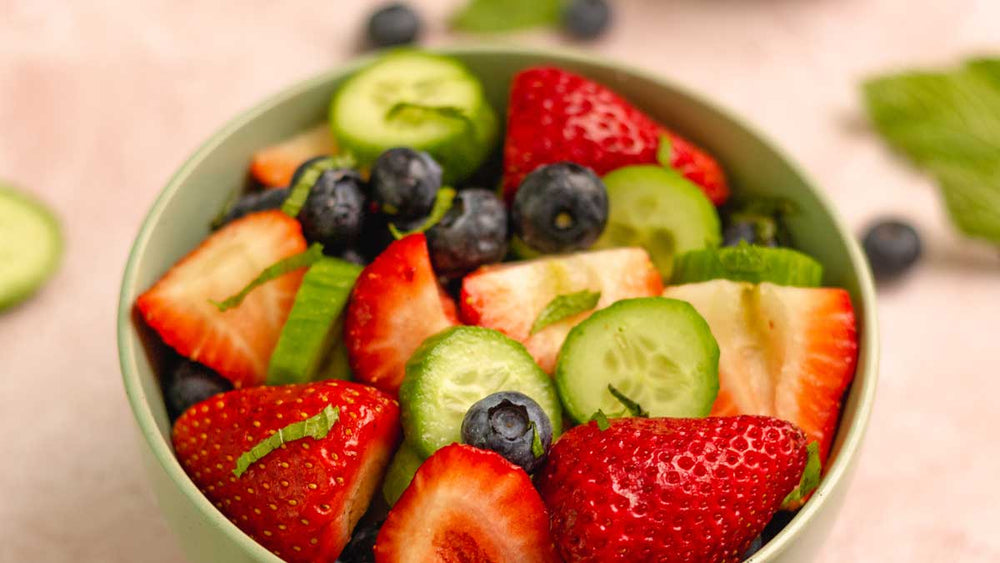 Low FODMAP Cucumber Berry Salad: Summer's Gut-Friendly Delight!
RECIPE
Published on Wednesday, August 09, 2023 by
---
Gut-Friendly Cucumber Berry Salad: A Refreshing Low FODMAP Delight for Summer Soirées
Say goodbye to the ordinary lettuce salads, as our Cucumber Berry Salad takes center stage with its unique blend of flavors and healthful ingredients.
Whether you're hosting a summer soirée, attending a picnic, or simply craving a light and nutritious dish, this salad is the perfect choice to beat the heat. But that's not all—our salad isn't just a treat for your taste buds; it's also a friendly option for those with sensitive digestive systems. It's crafted with care to be Low FODMAP, ensuring everyone can enjoy this summer delight without worry!
Ingredients
Our Cucumber Berry Salad is a delightful combination of fresh and wholesome ingredients, carefully selected to create a refreshing and nutritious summertime side dish. Packed with vibrant colors and tantalizing flavors, this salad will surely become a favorite for any occasion. 
Here are the star ingredients:
Cucumbers:

Crisp and hydrating, cucumbers form the base of our salad. Their cool and refreshing nature makes them perfect for hot weather. Besides being low in calories, cucumbers also provide essential vitamins and minerals, such as vitamin K and potassium.

Blueberries:

These little bursts of sweetness add a delightful pop of color to the salad. Blueberries are known for their antioxidant-rich properties, contributing to overall health and well-being. Their juicy texture complements the crispness of cucumbers, creating a perfect balance of flavors.

Strawberries:

Juicy, sweet, and utterly irresistible, strawberries bring a touch of summer sweetness to our salad. Packed with vitamin C and dietary fiber, these ruby-red gems add flavor and provide essential nutrients.

Fresh Mint:

Aromatic and refreshing, fresh mint leaves elevate the salad's taste to a whole new level. Mint brings a cooling sensation and a delightful fragrance that perfectly complements the juicy fruits and crisp cucumbers.

Olive Oil:

As the dressing for our salad, olive oil adds a light and healthy touch. It imparts a subtle richness that enhances the flavors of the other ingredients. Olive oil is a good source of heart-healthy monounsaturated fats and antioxidants, making it a wise addition to this nutritious dish.

Optional Additions: For those who wish to personalize their salad, numerous additions can further enhance the flavor and texture! Feel free to experiment and add items such as feta cheese, chopped pecans, or arugula. 
Colorful and Refreshing
The vibrant hues of juicy blueberries, ruby-red strawberries, and crisp green cucumbers come together beautifully, making it an eye-catching addition to any summer table. The cool and crisp cucumbers offer a hydrating relief with each bite, while the succulent berries deliver their natural sweetness. Beyond the taste and visual appeal, one of the many advantages of our salad lies in its focus on seasonal ingredients.
By incorporating fruits and vegetables that are in season, you're not only treating yourself to the freshest and most flavorful produce but also supporting local farmers and reducing the environmental impact of long-distance transportation. Eating in season means picking each ingredient at the peak of ripeness ensures optimal nutritional value and taste!
Serving Suggestions
Versatile and delectable, our Cucumber Berry Salad is the perfect companion for a wide range of main courses and summertime gatherings. Pair it with grilled chicken or fish for a light and wholesome meal to create a balanced plate that celebrates the best of the season. It also makes the perfect addition to any picnic spread, providing a refreshing contrast to heartier dishes.
Whether you're hosting a casual family barbecue or a chic al fresco dinner party, our Cucumber Berry Salad will bring a burst of color and flavor to the table, making it a truly memorable and enjoyable summertime side dish!
[[ recipeID=recipe-8lkmolkbu, title=Low FODMAP Cucumber Berry Salad ]]