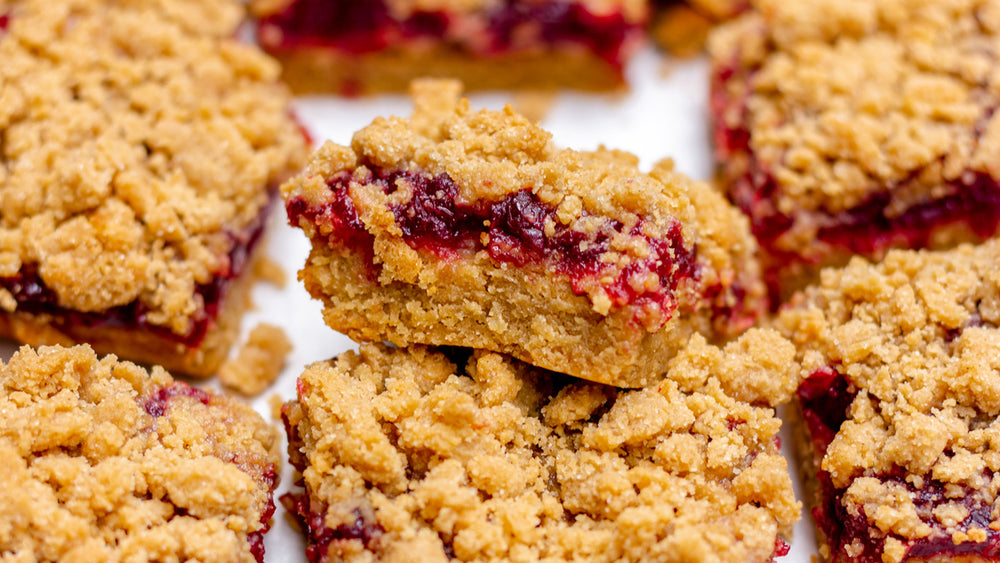 Low FODMAP Cranberry Crumble Bars
RECIPE
Published on Friday, November 17, 2023 by
---
Indulge in a Low FODMAP Fall Dessert: A Recipe for a Gut-Friendly Autumn
As Thanksgiving approaches, what better way to sweeten the celebration than with our Low FODMAP Cranberry Crumble Bars? 
These delectable bars are not only a mouthwatering dessert but also a perfect addition to your holiday feast. Designed for those following a Low FODMAP diet, they bring a burst of festive flavor to the table while keeping digestive concerns in check. With the delightful blend of cranberries and a buttery, crumbly crust, these bars are a Thanksgiving dessert everyone can enjoy. 
Is Cranberry Sauce Low FODMAP?
Now, about that cranberry sauce. When following a Low FODMAP diet, it's crucial to select or create a sauce without high-FODMAP ingredients like excess fructose or high fructose corn syrup. If you prefer homemade, a basic Low FODMAP cranberry sauce can be prepared by gently simmering fresh or frozen cranberries with a touch of sugar and water until they burst and thicken into a delicious sauce. Be sure to taste-test and adjust the sugar to your preference while keeping it Low FODMAP.
Tips For The Perfect Bars
To achieve picture-perfect bars, let them cool completely before slicing. For clean cuts, try dipping a sharp knife in hot water between slices. If you're wondering about storage, these bars can be placed in an airtight container at room temperature for a few days. For a longer shelf life, keep them in the refrigerator. Remember, this recipe is a starting point for your creativity. Feel free to experiment with spices – consider adding a pinch of nutmeg or ginger to the mix for an extra layer of flavor! 
Serving Suggestions 
Once your cranberry crumble bars are ready, you can enjoy them in various delightful ways. While they're perfect on their own, why not elevate your experience? Top them with a dollop of lactose-free vanilla yogurt to contrast the tartness of the cranberries with a creamy richness. For a more indulgent treat, consider adding a scoop of lactose-free ice cream that complements the buttery crumble perfectly. These bars are not only dietary-friendly but also versatile, making them an ideal dessert for everyone at the table! 
Frequently Asked Questions
Are cranberries considered Low FODMAP?
Cranberries are generally considered Low FODMAP in small quantities. About ½ cup of cranberries is considered safe per Monash University. Some store-bought cranberry products, like cranberry sauce, may contain high-FODMAP ingredients such as excess fructose or high fructose corn syrup. When incorporating cranberries into your Low FODMAP diet, it's advisable to stick to small servings and check ingredient labels for FODMAP content.
What variations can I make to this cranberry crumble bar recipe?
You can customize this recipe to suit your preferences or dietary needs. Here are a few variations to consider:
Dairy-Free: Substitute dairy-free butter for the butter in the recipe.

Spice It Up: Experiment with additional spices, like a pinch of nutmeg or ginger, to enhance the flavor.

Different Fillings: While cranberries are fantastic, feel free to try other low FODMAP fillings like raspberries or strawberries for a different twist.
Can I double this cranberry crumble bar recipe?
Absolutely! You can double the recipe to make a larger batch of cranberry crumble bars. Simply adjust the ingredient quantities accordingly, use a larger baking dish, and follow the same preparation steps. Remember that the baking time may need a little adjustment, so check for doneness by ensuring the top is golden brown. Doubling the recipe is an excellent idea, especially if you're serving a larger group or want extra bars for leftovers. 
[[ recipeID=recipe-8loenryc9, title=Low FODMAP Cranberry Crumble Bars ]]