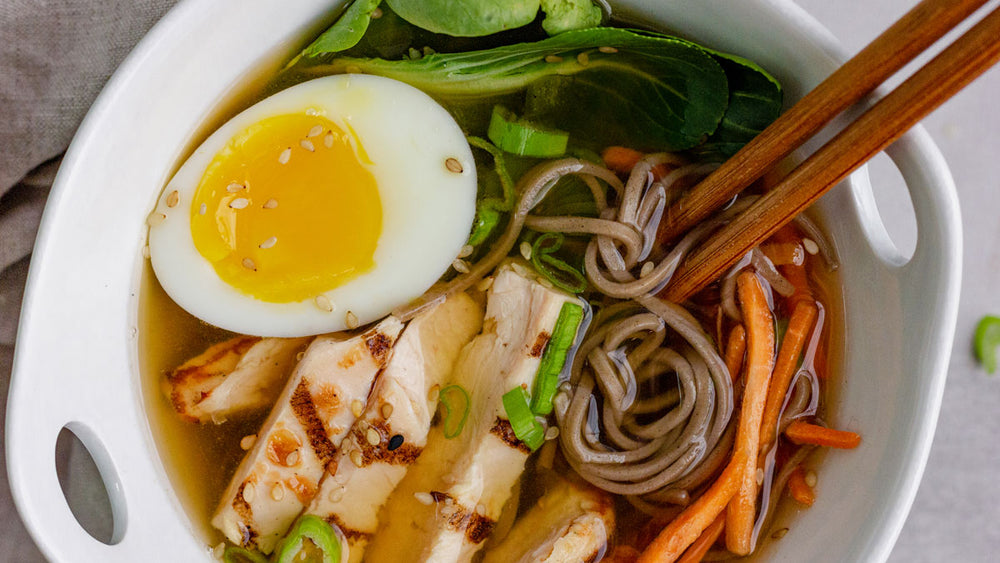 Low FODMAP Chicken Ramen Bowl
RECIPE
Published on Wednesday, June 14, 2023 by
---
For many food enthusiasts, ramen holds a special place in their hearts and taste buds. 
The rich, flavorful broth, slurp-worthy noodles, and myriad toppings make it a beloved comfort food. However, for individuals following a Low FODMAP diet, navigating the world of ramen can be a bit challenging. FODMAPs are fermentable carbohydrates that can trigger digestive symptoms in some people. But fear not! With a few key considerations, you can still savor a delicious bowl of chicken ramen while adhering to a Low FODMAP diet.
Tips for Ordering Low FODMAP Chicken Ramen:
When ordering a chicken ramen bowl that is Low FODMAP, there are a few key components to consider:
Broth

: Opt for a chicken-based broth as it tends to be Low FODMAP compared to broths made from other meats. Avoid broths that contain onion or garlic, as these are high FODMAP ingredients. Look for a clear broth or one that is labeled as free from FODMAPs. 

Noodles:

Traditional ramen noodles are made from wheat flour, which are high FODMAP. However, many restaurants now offer gluten-free or Low FODMAP alternatives, such as rice noodles or soba noodles made from 100% buckwheat. Confirm with the server if the noodles are suitable for a Low FODMAP diet.

Toppings:

When it comes to toppings, be mindful of ingredients that can trigger digestive symptoms. Typical high FODMAP toppings to avoid include onion, garlic, mushrooms, and certain vegetables like red cabbage, snow peas, and asparagus. Opt for Low FODMAP alternatives like sliced chicken, bok choy, bamboo shoots, spinach, nori seaweed, and green onions (green part only).

Spices and Seasonings:

Certain spices and seasonings, such as chili powder, onion powder, or garlic powder, can contain high FODMAP ingredients. Please inquire about the specific spices used in the broth or seasoning to ensure they are Low FODMAP.
Being on a Low FODMAP diet doesn't mean you must give up on the joys of having a delicious, comforting ramen bowl. By being aware of potential high FODMAP ingredients and making informed choices when ordering, you can still enjoy a satisfying and tummy-friendly ramen experience. Ask the restaurant staff about their Low FODMAP options or if they can accommodate your dietary needs!
Easy Homemade Chicken Ramen Bowl 
Our Chicken Ramen Bowl recipe incorporates a delightful blend of flavors and nutritious ingredients. We start with a base of soba noodles made from buckwheat, offering a nutty taste and satisfying texture. Alongside the noodles, we include tender chicken breast cooked to perfection, providing a lean protein source. To add a pop of color, crunch, and nutrients, we include vibrant bok choy and carrots. 
For the homemade broth, we combine various ingredients to create a rich and aromatic base. The soy sauce brings its umami depth to the broth, while ginger paste infuses a warm and comforting note. Adding rice vinegar adds a touch of tanginess and helps balance the flavors. This homemade broth ensures a flavorful and Low FODMAP option compared to store-bought varieties that may contain high FODMAP ingredients such as garlic and onions.
Combining soba noodles, tender chicken, crisp bok choy, sweet carrots, and a flavorful homemade broth, make this ramen bowl a satisfying and wholesome meal. It's a delicious balance of textures and flavors, ensuring a nourishing and enjoyable dining experience.
[[ recipeID=recipe-8liizthae, title=Low FODMAP Chicken Ramen Bowl ]]