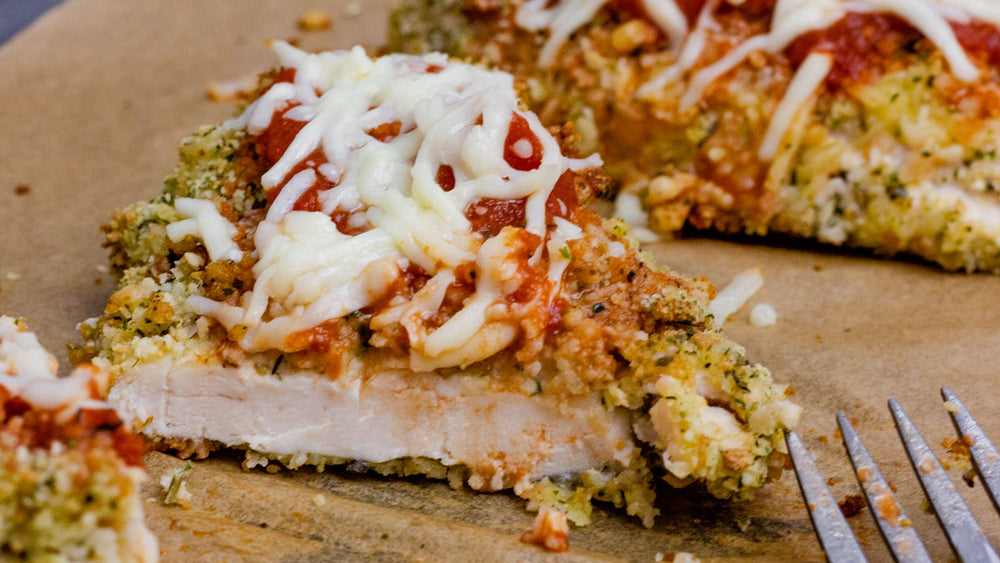 Low FODMAP Baked Chicken Parmesan
RECIPE
Published on Wednesday, June 21, 2023 by
---
Craving the rich flavors and mouth-watering dishes Italian cuisine is known for?
If you're following a Low FODMAP diet, indulging in Italian food can be challenging. Thankfully, with a few adjustments and ingredient swaps, you can still enjoy your favorite Italian recipes without triggering digestive discomfort. In this article, we'll explore a delicious Low FODMAP version of a beloved Italian dish: Chicken Parmesan. Additionally, we'll highlight some common high FODMAP ingredients found in Italian cuisine and provide tips on how to savor Italian flavors while adhering to a Low FODMAP diet.
Items to Watch Out for When Eating Italian:
Italian cuisine often incorporates ingredients high in FODMAPs, such as wheat-based pasta, garlic, onions, and high-lactose dairy products. These can trigger digestive symptoms in individuals with sensitive guts. When dining out or preparing Italian meals at home, it's crucial to be mindful of the following high FODMAP ingredients:
Wheat-Based Pasta:

Traditional pasta made from wheat contains high levels of FODMAPs. Opt for gluten-free pasta varieties like rice, corn, or quinoa pasta.

Garlic and Onions:

These aromatic ingredients are widely used in Italian cooking. However, they are high in FODMAPs. When cooking at home, consider using garlic-infused oil or the green tops of spring onions for flavor.

High-Lactose Dairy:

 Italian cuisine commonly uses cheese, cream, and milk-based products. Look for lactose-free or low-lactose alternatives, such as aged cheeses like Parmesan or lactose-free milk and mozzarella cheese.
Enjoying Italian Cuisine Out While Low FODMAP:
When dining out at an Italian restaurant while following a Low FODMAP diet, there are a few tips and strategies that can help you navigate the menu and enjoy your meal without sacrificing your dietary needs. 
Firstly, it's essential to communicate your dietary requirements to the server or chef. They can guide you through the menu and suggest Low FODMAP options or make modifications to accommodate your needs. 
Secondly, you can opt for simple dishes less likely to contain hidden FODMAPs. Grilled meats or fish with plain seasonings, salads with olive oil and vinegar dressing, or steamed vegetables are usually safe choices. Be cautious with pasta dishes, and consider requesting gluten-free alternatives made from rice or corn. 
Lastly, be mindful of sauces and dressings containing high FODMAP ingredients like garlic or onion. Ask for sauces on the side, or choose options with more straightforward ingredients. By communicating your needs and making wise choices, you can savor the flavors of Italian cuisine while staying true to your Low FODMAP lifestyle.
Low FODMAP Baked Chicken Parmesan Recipe
Indulge in the irresistible flavors of our Low FODMAP Chicken Parmesan Recipe. This delightful dish features tender chicken breasts coated in a crispy gluten-free breadcrumb mixture, then topped with a flavorful Low FODMAP marinara sauce and a generous amount of melted lactose-free cheese.
With carefully selected ingredients that are gentle on sensitive stomachs, this recipe allows you to enjoy the comforting taste of chicken Parmesan while following a Low FODMAP diet. Serve it alongside a side of gluten-free pasta or a fresh green salad for a complete and satisfying meal that will leave you feeling nourished and satisfied.
[[ recipeID=recipe-8likdmojd, title=Low FODMAP Baked Chicken Parmesan ]]