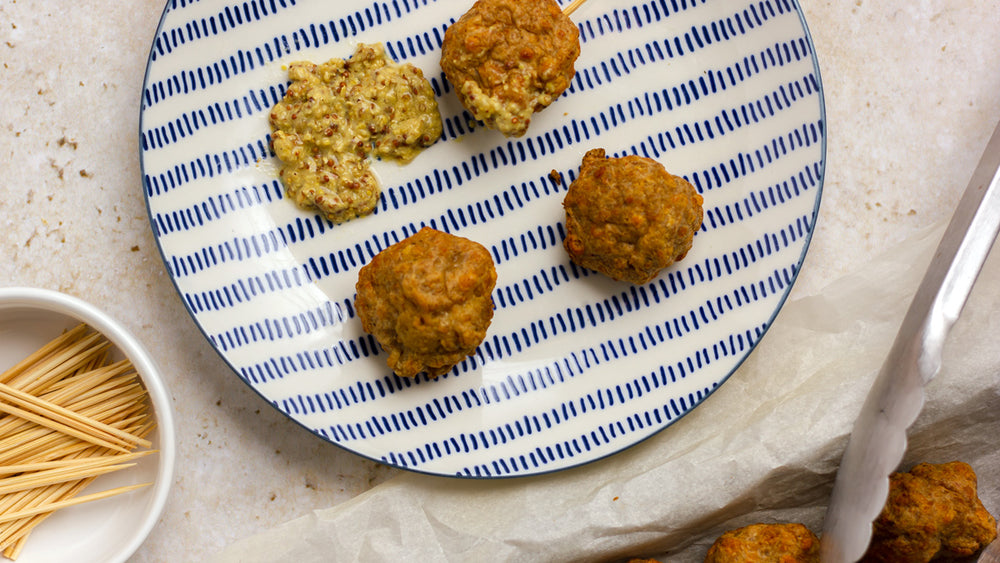 Low FODMAP Appetizers: Sausage Balls
RECIPE
Published on Friday, November 03, 2023 by
---
Transforming a Classic: Low FODMAP Sausage Balls
When finding the ultimate party appetizer that's delicious and a guaranteed crowd-pleaser, look no further than Sausage Cheddar Balls. 
The Classic Sausage Ball Recipe
The classic sausage ball recipe, a staple at parties and gatherings, is a mouthwatering blend of sausage, cheddar cheese, and baking mix known for its irresistible flavor. While this beloved recipe is undoubtedly delicious, it's also packed with high-FODMAP ingredients. Traditional sausage balls can be a no-go for those following a Low FODMAP diet. However, with a few swaps, you can turn this classic recipe into a Low FODMAP appetizer you'll keep grabbing!
Ingredients to Avoid
There are a few notorious culprits in the realm of high-FODMAP ingredients commonly found in traditional sausage balls. These include ingredients found in pork blends like garlic and onion, which are rich in fructans – a type of FODMAP that can wreak havoc on sensitive digestive systems. The classic recipe also contains wheat-based baking mix, another source of FODMAPs. 
Opt for sausages made from Low FODMAP ingredients such as plain ground pork or poultry with minimal seasoning. Additionally, many stores offer specifically labeled Low FODMAP sausages, allowing those with dietary sensitivities to enjoy these items with confidence. Some great Low FODMAP sausage options include JENNIE-O® All Natural* Turkey Sausage or Sage All Natural Sausage. 
Variations and Customization
Low FODMAP sausage balls provide a versatile canvas for culinary creativity. Once you've mastered the basic recipe, don't hesitate to explore variations and customization to suit your preferences. 
You can incorporate finely chopped green tops of green onions, omitting the white bulb, for a mild onion flavor. Experiment with different cheeses, such as lactose-free alternatives, or add a hint of heat with cayenne pepper. Whether aiming for a classic taste or a bold twist, the possibilities for personalization are endless.
Serving sausage balls with a flavorful dip can elevate this delicious appetizer. Classic options like marinara or a garlic-infused aioli provide a timeless combination, while a sweet and tangy honey mustard dip adds a delightful contrast. Tzatziki offers a refreshing twist, making it a perfect choice for warm-weather gatherings!
Frequently Asked Questions
How should I store leftover Low FODMAP sausage balls?
To preserve the freshness of your sausage balls, place any leftovers in an airtight container or resealable bag. Refrigerate them promptly; they should remain fresh for 3-4 days. For extended storage, you can freeze the sausage balls in a freezer-safe container for up to three months.
Can I make Low FODMAP sausage balls ahead of time?
Yes, you can prepare Low FODMAP sausage balls in advance. After baking, allow them to cool to room temperature, then store them in the refrigerator. When ready to enjoy them, simply reheat them in the oven at a low temperature to maintain their texture and flavor. 
Are there any tips for preventing Low FODMAP sausage balls from becoming soggy during storage or reheating?
It's essential to store the sausage balls in an airtight container to minimize exposure to moisture, which will prevent them from becoming soggy when reheating. When reheating, use an oven or toaster oven on low heat rather than a microwave to help retain their texture. If they have become slightly soft, a few extra minutes in the oven can help restore their crunch.
[[ recipeID=recipe-8lo30335u, title=Low FODMAP Sausage Balls ]]