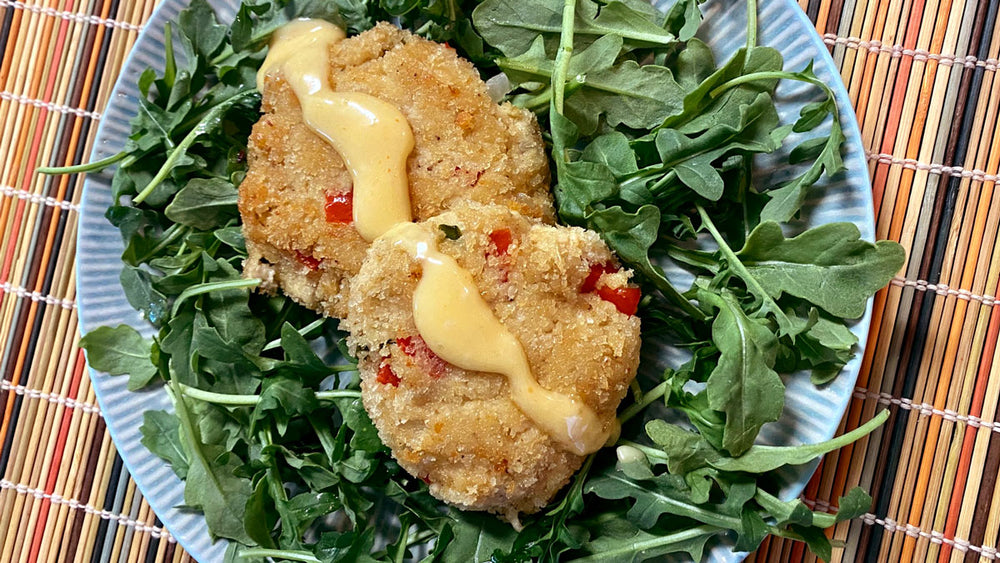 Lion's Mane Mushroom Crab Cakes
RECIPE
Published on Wednesday, June 29, 2022 by
---
I started cooking with a wide variety of mushrooms a couple of years ago when a local mushroom grower started bringing me all different kinds of fungus!  
Lion's mane mushrooms are becoming more popular, not only for their delicious flavor but for their health benefits as well!  Lion's Mane in particular is great for our brains. For thousands of years Lion's mane mushrooms (Hericium erinaceus) have been acclaimed for increasing cognitive function, reducing inflammation, and stimulating neural development by increasing a protein in our brains called nerve growth factor (NGF).
These mushrooms are not only delicious but have been extensively studied for their nutritional properties (Behav Neurol, 2018; J Tradit Complement Med, 2013; Int J Med Mushrooms, 2013) with some promising research in the area of neurocognitive disorders (Front. Aging Neurosci., 2020).
This recipe will make the crab cake traditionalist shake their head in disbelief at how similar the flavor and texture of these mushroom cakes are to actual crab cakes.  
Old Bay Seasoning is my go-to when I'm making any sort of seafood cake. For this recipe it really ties everything together making these cakes the best "mock" crab cakes you've ever had! 
If you cannot tolerate Old Bay Seasoning, you can make your own seafood seasoning blend with spices that are friendly to you! Many times, seafood seasonings include flavors such as sweet paprika, celery seed, dried mustard, garlic powder, black pepper, salt, cardamom, cloves, ginger, bay leaves, and dill. Just pick whatever seasonings are friendly to you and make your own mix!
[[ recipeID=recipe-9l4puornp, title=Lion's Mane Mushroom "Crab" Cakes ]]