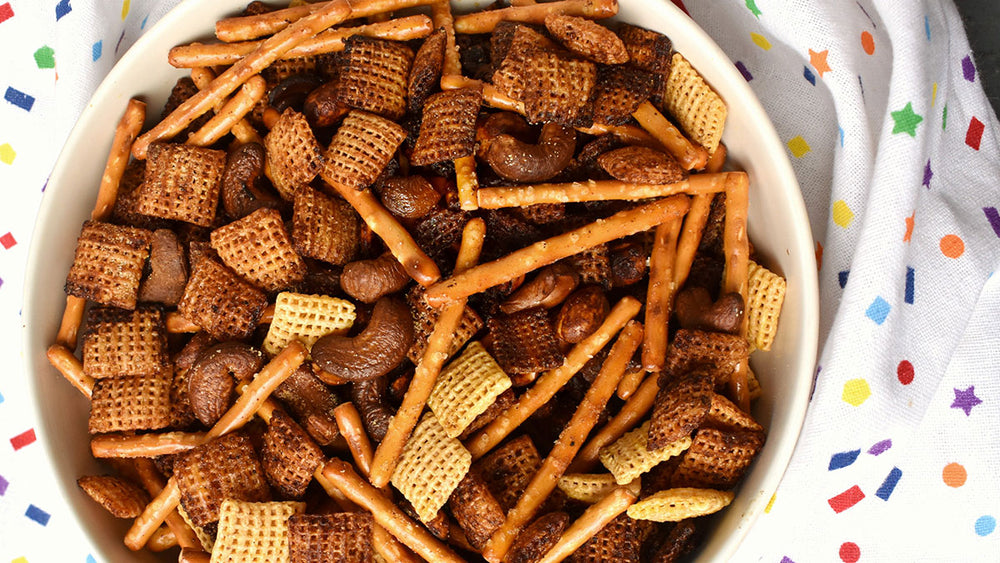 Friendly Snacks: Gluten-Free Party Mix
RECIPE
Published on Wednesday, February 02, 2022 by
---
The homemade version is so easy and tastier than store-bought!
Isn't Chex Mix so tasty? This Low-FODMAP version is delicious! It is gluten-free by using gluten-free Corn Chex and Rice Chex, gluten-free pretzels and gluten-free Worcestershire sauce. I skipped the garlic and onion powder to make it Low-FODMAP but if you can tolerate those foods, add a teaspoon of each to your party mix.
I added peanuts and almonds to make it full of healthy fats and protein and to make this snack a little more filling. If you want to keep it on the lower calorie side, you can reduce the amount of nuts you use. A 1-2 tablespoon portion of almonds is approved as Low-FODMAP so just watch the amount that you consume.
Gluten-Free Party Mix is loaded with Chex, almonds, pretzels and peanuts and covered in a flavorful Worcestershire butter sauce with smoked paprika!
Make this for your watch parties or any time! Parties watching football, basketball, or any other sport are so much fun- especially for the food. This makes a great snack to enjoy through the week as well. This is definitely a treat type of food and makes a really fun movie night snack. 
You can make homemade party mix using whatever flavors you want such as buffalo party mix or ranch party mix using ranch seasoning. When your party mix is in the oven, watch it carefully so it doesn't burn. Cooking it at a low temperature helps it not burn but to get nice and crispy. 
What Ingredients Do You Need for Gluten-Free Party Mix?
-A couple kinds of Chex- corn and rice work well to keep it gluten-free. If you can tolerate gluten, you can use wheat Chex if you want. 
-Nuts- peanuts, cashews, almonds and pecans work really well
-Flavors- butter, Worcestershire sauce, salt, smoked paprika. Note: The Worcestershire sauce does contain garlic powder, but is very low in the list of ingredients. If you need to remove the garlic powder completely, you can make your own by removing it, along with any other triggers.
-Pretzels- I used gluten-free pretzels to keep this dish gluten-free but you can use regular ones if you can tolerate gluten.
[[ recipeID=recipe-9kxt38xud, title=Gluten-Free Party Mix ]]