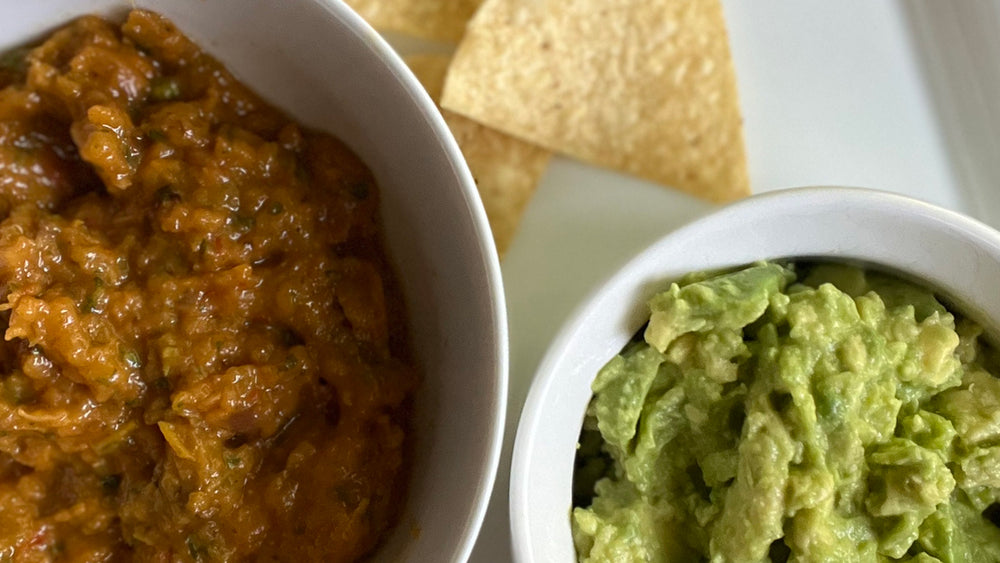 Roasted Pepper Salsa and Easy Guacamole
RECIPE
Published on Friday, May 27, 2022 by
---
My go-to favorite party snack, to make and to eat, is salsa and guacamole. 
It is always a crowd pleaser, can feed a large group, is easy to buy and is just as easy to make! But the typical tomato-based salsas are not friendly to everyone. 
Have you ever sat at a party snacking on chips and salsa only to have that chest-on-fire heartburn moments later? This GERD-friendly recipe for roasted pepper salsa and a super easy, 3 ingredient guacamole, might just be the cure for your summer snacking.
These recipes are both very easy and can also be customized to your own fit and tolerances.
The salsa is pepper based, not tomato. Not only is it easier on your stomach, but it is also full of Vitamin-C and fiber. The recipe calls for cilantro, but if you aren't a fan of that flavor, you can substitute parsley. In fact, adding parsley might even help with digestion. I like to make this salsa with loads of fresh lime juice, but you can add it according to your own tolerance. 
Have you ever cooked with jalapenos or hot peppers before? The heat lives in the seeds of the pepper, so again, depending on your own preferences you can tailor the level of heat to your own taste buds and tolerances. 
*If red onion is a triggering food, you can replace it with shallot or top cooked/cooled salsa with green onion tops.
Avocados have been popular for a while now. From avocado toast, to brownies, to smoothies, they really are packed with fiber, good fats, and even a little protein. Chips, salsa and guacamole already go hand-in-hand-in hand, and the creaminess of the guacamole is a nice compliment to the spice. Serve these recipes with chips and a veggie tray, and you'll be the apps master of your next party! I hope you enjoy it!
Roasted Pepper Salsa
You can roast the vegetables in the oven or on a grill (which is delicious). I'd recommend using a sheet pan instead of a vegetable grill basket, because you really want to roast these peppers until they are falling apart. You will want to roast on high heat for a longer time, so the peppers break down and get sweet and flavorful. The peppers break down very quickly once roasted, so don't walk away! 
The cooling time for the vegetables can take up to 30 minutes, but you can speed up this process by utilizing an ice bath (placing the vegetables in a tub of water and ice). When slicing open the jalapeño pepper, remember that the seeds hold all the heat, so scrape the seeds out of the pepper and add in a little bit at a time to the salsa mixture. If you make the salsa too spicy from the get-go, it's hard to go back! Don't want any extra heat? Leave the seeds out. The salsa is still full-flavored and delicious!
[[ recipeID=recipe-9l3d6d534, title=Roasted Pepper Salsa ]]
Easy Guacamole 
This recipe is so easy, it is barely even a recipe. But it is a great base for making more flavorful and adventurous guacamole in the future! You can serve this with the Roasted Pepper Salsa, chips and veggies, slather on toast, or even serve with scrambled eggs. 
Some additional add-ins include diced tomatoes, diced red onion, diced jalapeño peppers, and hot sauce depending on your triggers and tolerance. 
A quick and easy tip for adding a bit more flavor to this guacamole base, is to take a little help from the grocery store. Buy a jar of fresh pico de gallo salsa from the fresh foods section and add a few tablespoons to your base. It saves on the chopping and is a fast and easy way to add flavor! 
Thinking of bringing guac to a party? Save the seeds when mashing your avocado and stick them onto the top of your finished product. Squeeze on a little extra lime juice and that combination will prevent your avocado from oxidizing and turning brown. 
[[ recipeID=recipe-9l3d6clbb, title=Easy Guacamole ]]
Need to stock up on your herbs? Check out these friendly choices for your pantry:
Organic Cilantro Flakes (0.56 oz)