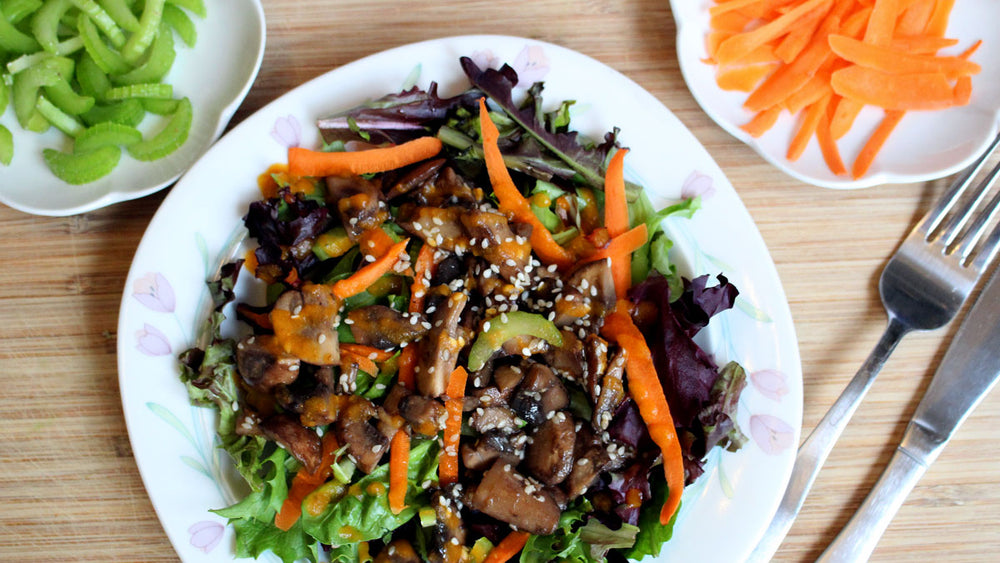 Asian-Inspired Crimini Mushroom Salad
RECIPE
Published on Saturday, June 10, 2023 by
---
This salad has quickly become my favorite!  
It is packed with nutrition and is loaded with flavor. I made this salad the same day as the Grilled Chicken Wing recipe (coming soon!), and they pair perfectly together. I USED BEECH MUSHROOMS when I originally made this salad, but they are not the easiest to find. I like crimini mushrooms, which are baby portobellos. If you prefer to use portobellos, no problem; they take a bit longer to cook.  
Because of the small amount of vinegar used to make this recipe, it should be tolerated by those who suffer from acid reflux or GERD. I stumbled upon rose wine vinegar some time ago, but don't fret if you can't find it. Apple cider vinegar will work just fine in this recipe. Depending on your dietary triggers, you may forgo the optional dash of sriracha. 
This recipe is high in Vitamin A and potassium! Add toasted walnuts to make this salad into a meal with more protein. This gives it a nice crunch and a boost of protein. To make this salad vegan, use agave nectar instead of honey.  
[[ recipeID=recipe-8lhru2u8b, title=Asian-Inspired Crimini Mushroom Salad ]]