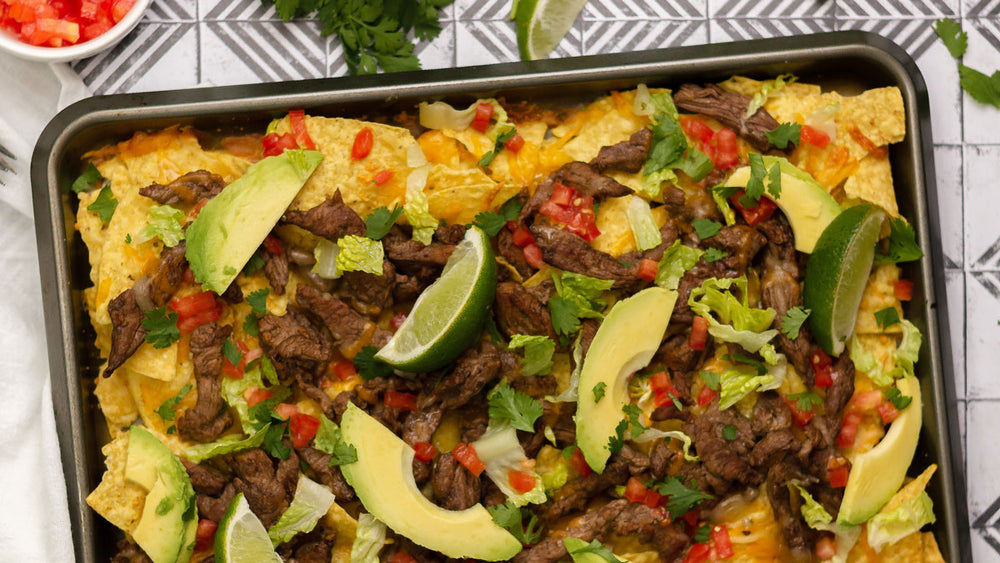 Sheet Pan Fajita Steak Nachos: Easy Weeknight Meal
RECIPE
Published on Friday, August 18, 2023 by
---
Sheet Pan Fajita Steak Nachos: A Versatile and Gut-Friendly Fiesta!
With sizzling, savory goodness that comes together in a flash, fajitas are the ultimate weeknight meal, bringing joy and satisfaction to the whole family.
In the midst of our busy lives, dinnertime often calls for something quick, delicious, and family-friendly. Look no further as we introduce you to the mouthwatering world of Sheet Pan Steak Fajita Nachos - the perfect weeknight meal that effortlessly combines the best of both fajitas and nachos. Bursting with vibrant flavors, tender steak, and colorful veggies, all baked to perfection on a single sheet pan, this delightful dish promises to make dinner preparation a breeze. 
What's more, it caters to those with sensitive stomachs, as it follows a Low FODMAP approach without compromising on taste. Get ready to elevate your weeknight dinners with this easy-to-make and customizable crowd-pleaser, destined to become a beloved family favorite. 
Ingredients (Low FODMAP and Customizable)
To create this perfect sheet pan fajita nachos, you'll need a few gut-friendly and customizable ingredients. Start with a base of plain, gluten-free corn tortilla chips, ensuring they are free from high FODMAP additives, providing the perfect crunchy foundation for the nachos.
Next, for the savory and protein-rich component, choose tender steak like sirloin, flank, or skirt steak, making sure to trim off any excess fat. Cut the steak into bite-sized pieces to evenly distribute the goodness throughout the nachos.
To add a refreshing crunch, incorporate shredded lettuce, a safe and delightful Low FODMAP vegetable. Its crispness complements the tender steak and balances the flavors perfectly. Enhance the vibrant colors and taste by adding juicy Roma tomatoes, creamy avocado, and chopped cilantro on top. 
For those who tolerate lactose, cheddar cheese can be added to provide a creamy and savory dimension to the nachos. However, if lactose is an issue, opt for a lactose-free cheddar cheese or a dairy-free alternative to ensure that everyone can enjoy this delightful dish. To elevate the flavors even further, use Smoke 'N Sanity Taco Seasoning, a carefully crafted blend of spices that infuses the nachos with irresistible smokiness and depth. This seasoning mix is also Low FODMAP, ensuring that your dish remains gut-friendly. 
With these Low FODMAP ingredients and optional customizations, our Sheet Pan Steak Fajita Nachos are sure to become a beloved go-to dish for family dinners and gatherings, combining both flavor and digestive consideration in one delicious package.
Customization Options
The beauty of Sheet Pan Steak Fajita Nachos lies in its versatility, offering a plethora of customization options to cater to various taste preferences and dietary needs. While the base recipe features tender steak, consider exploring diverse protein options like grilled chicken, marinated tofu, or succulent shrimp, allowing you to cater to a variety of palates. For cheese enthusiasts, experiment with different types of lactose-free or dairy-free cheeses, such as mozzarella or pepper jack, to create a melty and delightful topping. 
Additionally, unleash your creativity with the vegetable mix by incorporating an array of Low FODMAP veggies like eggplant, carrots, or green bell peppers to add vibrant colors and unique textures. For those who crave a bit of heat, drizzle on your preferred Low FODMAP hot sauce, or spice up the nachos with slices of pickled jalapeño peppers. Embrace the freedom to craft a customized version of Sheet Pan Steak Fajita Nachos, tailor-made to please the taste buds and dietary needs of everyone at the table!
Savoring the Fiesta
By making mindful ingredient choices and cleverly substituting high FODMAP items with gut-friendly alternatives, you can continue to enjoy the essence of Mexican cuisine without any worries. Embrace the array of vibrant colors, aromatic spices, and diverse textures that Mexican cuisine has to offer, all while ensuring your tummy remains happy and comfortable. Whether you're whipping up tacos, burrito bowls, or fajitas, the possibilities are endless when it comes to creating Mexican-inspired dishes that cater to your dietary needs!
Want to make this recipe using the Low FODMAP seasonings from Smoke 'N Sanity?! Head to the SnS website and use the coupon code SNSRD15 for 15% off any of their products!
[[ recipeID=recipe-8lkvl89lu, title=Sheet Pan Fajita Steak Nachos ]]