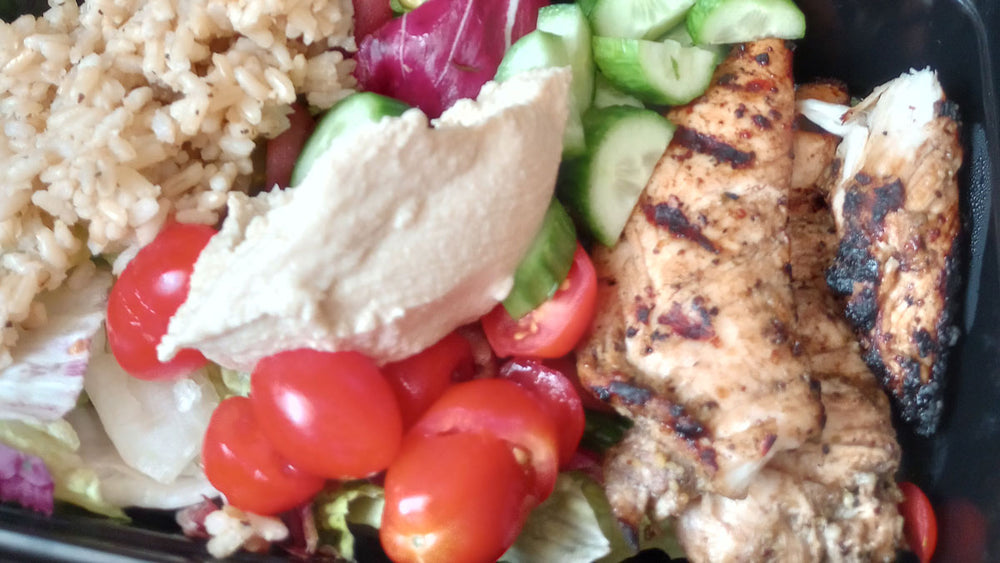 Low FODMAP Mediterranean Chicken Bowls
RECIPE
Published on Saturday, July 22, 2023 by
---
There is something special about grilling food in the summertime.
With temperatures rising and more time spent in backyards, sprinklers are on, and you are probably firing up the grill and ready to have a delicious meal to tie it all together.
While burgers and hotdogs are great for BBQs, why not change it up and make something healthy and gut-friendly!? This Mediterranean chicken bowl is a great option that hits all the targets with taste, crunch, and FODMAP-friendly ingredients. 
I love Mediterranean food and the savory, robust flavors that dance on my taste buds.

 
Eating this food brings me so much joy, but many dishes use garlic, onion, and other high FODMAP ingredients. While these are not my specific trigger foods, they can be for many people who suffer from GI disorders.
With this recipe, I wanted to experiment with some new Low FODMAP seasonings. Smoke 'N Sanity has an entire line of Low FODMAP seasonings, sauces, and marinades that allow people living with IBS/IBD an opportunity to have still those familiar flavors they love so much. With these products, you won't have to miss out on ingredients you have had to eliminate.
For this recipe, I chose to keep it simple with ingredients that can be swapped out.

 
I marinated the chicken in balsamic vinegar, which is Low FODMAP already. Since it is an acid, you do not want to soak the chicken for longer than 4 hours as it will begin to break down the structure of the meat. Vinegar does help remove the gooey, fatty residue and will help tenderize the chicken breast making it more susceptible to flavor and coating, and can expedite the cooking process.  
Want to make this recipe using the Low FODMAP seasonings from Smoke 'N Sanity?! Head to the SnS website and use the coupon code SNSRD15 for 15% off any of their products!
[[ recipeID=recipe-8ljlpymd8, title=Low FODMAP Mediterranean Chicken Bowls ]]