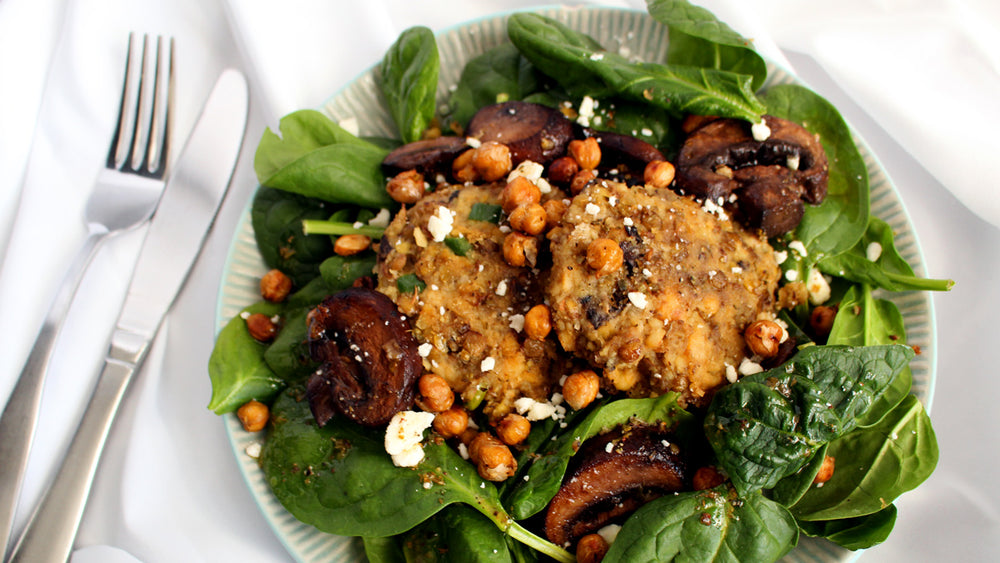 Greek Inspired Lentil Garbanzo and Mushroom Patties
RECIPE
Published on Monday, February 13, 2023 by
---
This burger is a BRAND new recipe of mine. 
Maybe you are looking for something new to add to your meal rotation or maybe you are looking for another healthy addition to keep on track with your nutrition goals this year. This Greek-inspired burger should make it easier to stick to a more intuitive eating lifestyle. 
The black bean seems to be the leader when it comes to vegetarian bean burgers, but I decided to take a different route and use garbanzo (chickpea) and lentils. Both of these are two of my favorites. 
Garbanzo beans are the main ingredient found in hummus. Lentils are in all sorts of soups and Mediterranean cuisine. Canned lentils cook pretty fast, so I am using dried lentils for this recipe. Garbanzo beans are loaded with protein and fiber. For canned garbanzo beans, they carry around 9 grams of protein and 6 grams of fiber. If you chose to use dried garbanzo beans, then the protein and fiber content could be higher. 
Lentils are full of protein and fiber as well, but they are also full of potassium, iron, and folate. One serving of lentils gives a person 15% of their recommended iron consumption, so needless to say, these patties are chocked full of nutrition!
As opposed to a burger bun, I'm going to put these burgers on a bed of spinach. Topped with sliced sauteed portobellos, feta, and drizzled with a quick Greek vinaigrette, and finished off with toasted garbanzo beans to give it that nice crunch! 
Now just like with all my recipes, make it your own! If you don't like something, like mushrooms or jalapenos, omit it and add something different.
[[ recipeID=recipe-8ldkhppzu, title=Greek Inspired Lentil Garbanzo and Mushroom Patties ]]