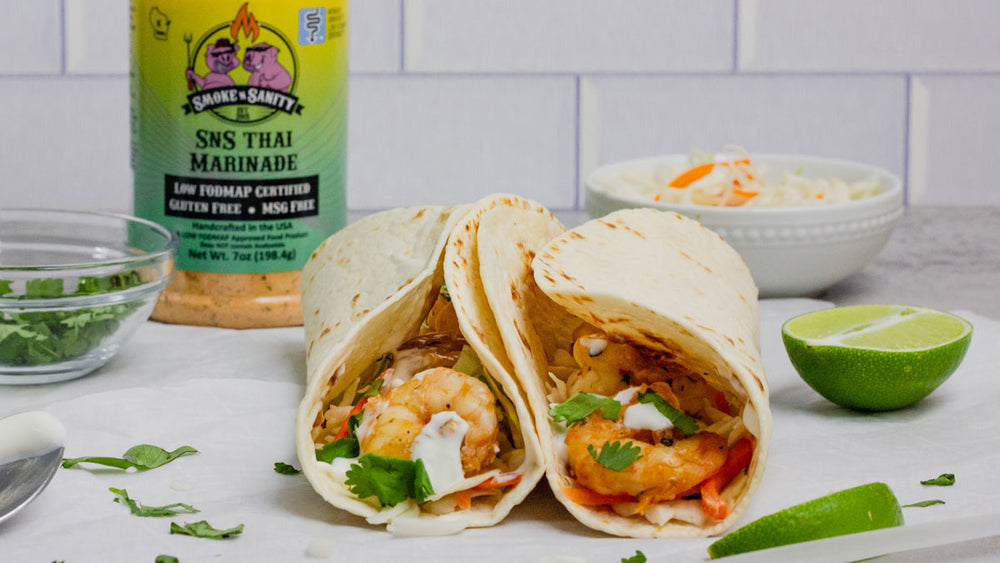 Delicious Thai Shrimp Tacos: A Low FODMAP Twist
RECIPE
Published on Wednesday, July 12, 2023 by
---
Thai cuisine is renowned for its vibrant flavors, aromatic herbs, and unique combinations of ingredients. 
For those following a Low FODMAP diet, finding flavorful and exciting dishes can sometimes be challenging. However, don't worry! Our Thai Shrimp Tacos are Low FODMAP friendly. With zesty flavors, these tacos are not only delicious but also gentle on sensitive tummies.
Enjoying Thai food while following a Low FODMAP diet can be a delightful and flavorsome experience. Although some traditional Thai ingredients may be high in FODMAPs, plenty of options and adaptations are available to create Low FODMAP Thai dishes.
By making mindful ingredient choices, such as avoiding onions and garlic and opting for FODMAP-friendly alternatives like garlic-infused oil or green parts of scallions, you can savor the vibrant flavors of Thai cuisine without compromising your digestive well-being. Our Thai Shrimp Tacos are the perfect recipe to experiment with, combining the best of both worlds: the exciting flavors of Thai cuisine and the Low FODMAP principles!
The star ingredient of these Thai Shrimp Tacos is, of course, the succulent shrimp. 
Shrimp is not only a delicious seafood option but also a fantastic choice for individuals following a Low FODMAP diet. It serves as an excellent source of protein, making it a valuable addition to any Low FODMAP meal plan. With a Low FODMAP content, shrimp provides essential amino acids while being gentle on the digestive system. Its versatile nature allows it to be easily incorporated into various dishes, including salads, stir-fries, and, of course, flavorful Thai Shrimp Tacos. So, whether you're looking to meet your protein needs or add a touch of seafood delight to your meals, shrimp is a go-to option to satisfy both taste buds and nutritional goals while maintaining a Low FODMAP balance.
Smoke 'N Sanity Thai Marinade is a game-changer for individuals following a Low FODMAP diet. This delectable marinade blend has earned the prestigious Monash University Low FODMAP Certification, ensuring that it meets the strict guidelines. With Smoke 'N Sanity Thai Marinade, you can infuse your dishes with authentic Thai flavors without worrying about triggering digestive discomfort. Packed with aromatic herbs, spices, and a well-balanced blend of Low FODMAP ingredients, this marinade adds a perfect balance of sweet, spicy, and tangy notes, elevating the taste of the shrimp to new heights.
To complete the Thai Shrimp Tacos, serve them on gluten-free or corn tortillas. These tortillas provide a soft and slightly toasted base that perfectly complements the vibrant flavors of the shrimp. Add a burst of freshness by topping the tacos with shredded carrots, cabbage slaw, fragrant cilantro leaves, and a squeeze of lime juice. The combination of textures and flavors creates an explosion of flavor that will transport your taste buds straight to the streets of Thailand!
Excited to try the Smoke 'N Sanity Thai Marinade?! Head to the SnS website and use the coupon code SNSRD15 for 15% off any of their products!
[[ recipeID=recipe-8ljda3zwb, title=Low FODMAP Thai Shrimp Tacos ]]