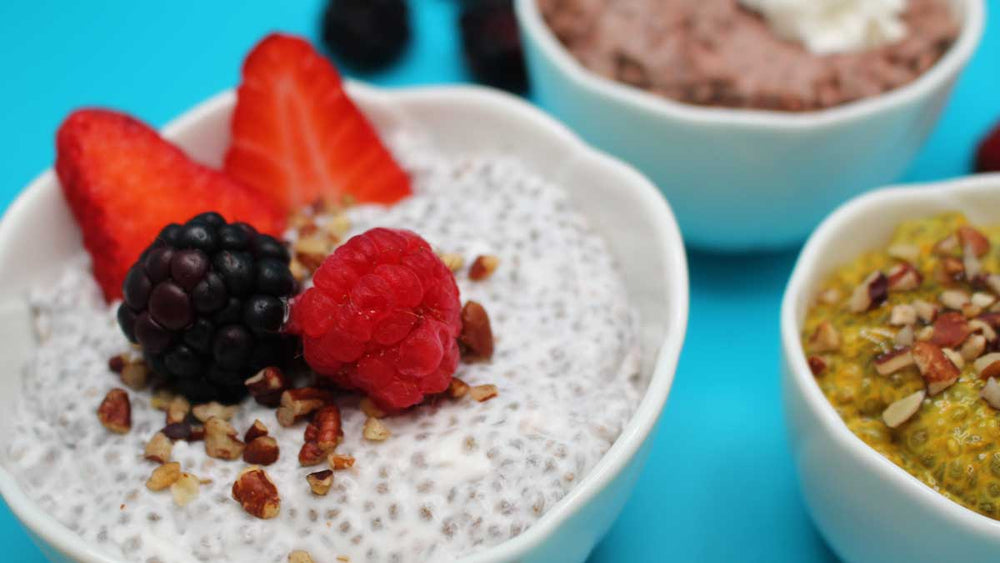 Coconut Chia Pudding
RECIPE
Published on Thursday, January 05, 2023 by
---
I have recently discovered this wonderful, super healthy seed. 
It is flavorless, so it can be paired with anything.  
Chia seeds are a thickener and emulsifier; the best part about these super seeds is the health benefits! They are loaded with fiber, omega-3 fatty acids, as well as antioxidants. 
It is also super easy, almost too easy, to make something so creamy and delicious with this chia pudding. For those of you who have a lactose allergy/sensitivity and miss all of the delicious dairy treats, this coconut chia pudding recipe could be your substitute.
The first time I tried chia was using it in coconut milk to make a pudding. I was very skeptical about how this seed would turn the coconut milk into a smooth pudding since I am picky about textures, especially creamy textures. I really didn't think it would turn out as smooth and creamy as it did. After my first bite, I was sold!  The first recipe is going to be what I refer to as a chia coconut pudding base. All that's in it is coconut milk and chia seeds. What is added next, is all up to you! I will give some suggestions but feel free to experiment with different flavors and toppings.
The chia coconut pudding base doesn't have a lot of flavor. My favorite toppings are strawberries, candied pecans, and a drizzle of honey.  If you are not a fan of coconut milk or would like to try a different flavor, you can also use oat milk or almond milk + 6 TBSP of chia seeds. Here is a flavor combination that I like to use:
Turmeric Spiced Chia Pudding Parfait:
8 ounces of almond or oat milk

6 tablespoons chia seeds

1 teaspoon turmeric

½ teaspoon ground ginger

⅛ teaspoon cayenne pepper

⅛ teaspoon cardamom

2 tablespoons honey

¼ cup spicy candied nuts(optional)
The recipe for the spicy candied nuts can be found in the roasted beet salad recipe.
In an airtight container, add the spices to the chia and milk mixture and let sit for 24 hours before serving. Stir the honey into the spiced pudding.  More or less depending on sweetness. Parfait means to layer, so scoop a little pudding into a bowl, then sprinkle with the candied nuts, and repeat. Garnish with a drizzle of honey and a dash of cardamom. 
If chocolate does not trigger your symptoms, this next recipe is a fresh spin on dark chocolate pudding. I'm going to use heavy cream, dark chocolate powder, melted dark chocolate, and chia seeds. Feel free to add some peanut butter to make a chia peanut butter cup pudding!
Dark Chocolate Chia Pudding:
8 ounces of heavy cream

6 tablespoons chia seeds

1 tablespoon powdered dark chocolate

2 tablespoons melted dark chocolate

2 tablespoons powdered sugar

Dark chocolate shavings and whipped cream for garnish
In an airtight container, combine the chia seeds, the dark chocolate powder, and the milk. Place in the refrigerator for 24 hours. Stir the melted, but cooled dark chocolate into the pudding, and add the powdered sugar. It might need more or less, depending on how sweet you would like your pudding to be. Garnish with some whipped cream and chocolate shavings.
[[ recipeID=recipe-8lbmlhcex, title=Coconut Chia Pudding ]]