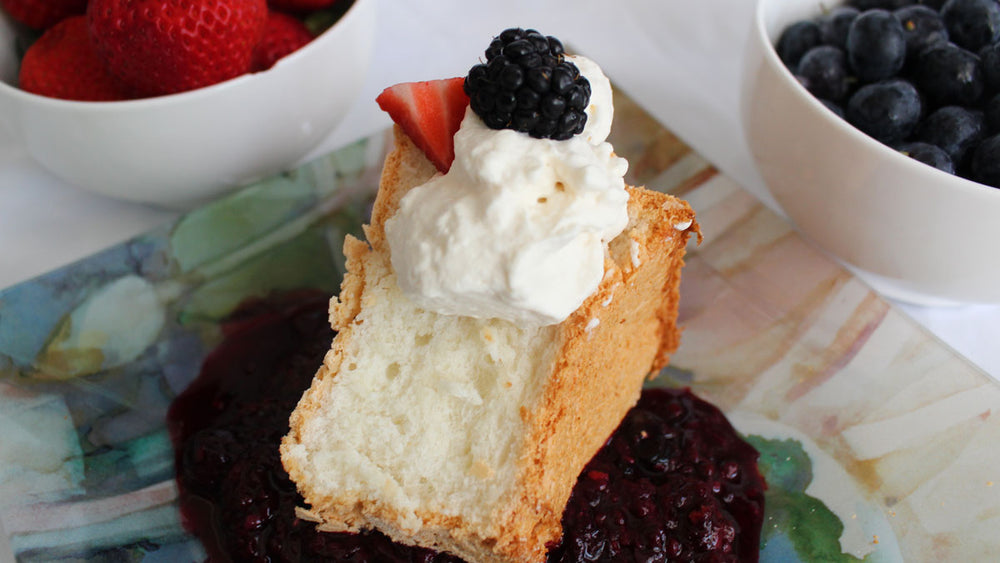 Angel Food Cake with a Berry Compote
RECIPE
Published on Wednesday, May 31, 2023 by
---
This delicious dessert will leave you feeling perfectly satisfied.
Angel food cake. This light, airy low-fat dessert is perfect for someone watching their fat intake, but it is not a low-sugar food. Angel food cakes contain a fair amount of sugar, which I have reduced the traditional amount in this recipe. What's the saying…everything in moderation?
I like to pair angel food cake with a warm berry compote and fresh whipped cream. My first experience with fresh whipped cream or chantilly cream was when I was a child. I was fascinated by the actual whipping of the cream to make natural whipped cream. I would lick the mixing bowl and the mixing attachments clean! This Chantilly cream is optional in this recipe, but I recommend you try it because it adds another dimension of flavor to the recipe.
What happens to the cream to become a light, airy whip?
The foam will form once you start whipping, which are air pockets. During this process, the fat globules decide to protect the air pockets by surrounding them. This process creates whipped cream. Now more chemical reactions occur (as well as some more correct terminology), but that's the gist. When making fresh whipped cream, keep the mixing bowl and the whisk or whisk attachment cold before use; this speeds up the whipping process.
Angel food cake gets a light and airy texture and height from egg whites.
Whipping the egg whites with a little of the sugar and cream of tartar for stability, then gently folding them into the flour, distinguishes this cake from others. When baking, I will use the traditional round with a hollow center. This type of pan is ideal for angel food cakes to get the desired height and texture. Please don't grease the pan. This cake sticks to the sides and climbs up when it is baking. You'll have to use an offset spatula around the sides to remove it from the pan.
Cake flour is used because it contains fewer proteins, gliadin, and glutenin that form gluten when combined with the liquid. Gluten gives bread its pull; we are looking for a tender cake, so the fewer proteins, the better. 
[[ recipeID=recipe-8lggt77yg, title=Angel Food Cake with a Berry Compote ]]