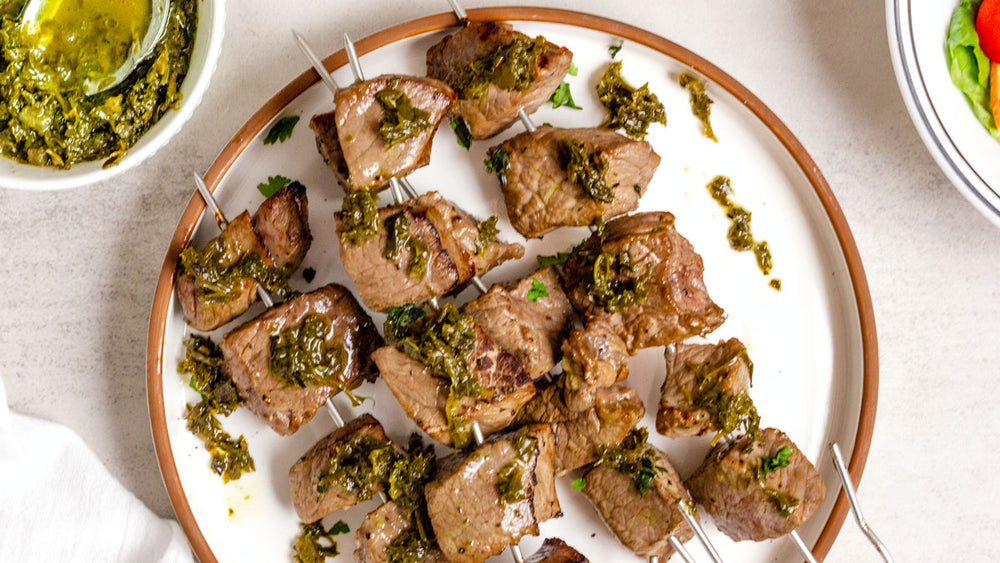 Low FODMAP Steak Kabobs with Chimichurri Sauce
RECIPE
Published on Wednesday, July 19, 2023 by
---
When following a Low FODMAP diet, finding delicious and satisfying recipes that won't trigger digestive discomfort is essential. 
If you're craving something hearty and full of flavor, look no further than these mouthwatering Low FODMAP steak kabobs with chimichurri sauce. Packed with protein and a zesty sauce, this recipe will tantalize your taste buds while keeping your tummy happy! 
Grilled steak kabobs are a fantastic option for those following a Low FODMAP diet, as they offer a delicious and satisfying meal without triggering digestive discomfort. Lean cuts of beef, such as sirloin, are low in FODMAPs and provide a good source of protein. The marinade used for the steak contains garlic-infused olive oil, which provides a delightful taste without the high FODMAP content found in garlic cloves.
Chimichurri sauce is a vibrant and herbaceous condiment originating from Argentina. 
Traditionally made with parsley, garlic, olive oil, vinegar, and various herbs, it adds a burst of freshness and tanginess to grilled meats. In this Low FODMAP version, garlic-infused olive oil is used to infuse the sauce with flavor while omitting the high FODMAP content of fresh garlic. The combination of the juicy steak kabobs and the zesty chimichurri sauce creates a harmony of flavors that will leave you satisfied and eager to include this recipe in your regular Low FODMAP meal rotation.
Enhancing the flavors of your Low FODMAP steak kabobs and chimichurri sauce can be achieved by incorporating two key seasonings: Smoke 'N Sanity Steakhouse Seasoning for the steak and Salt, Pepper, and Essence of Garlic Salt for the chimichurri sauce. The robust and smoky profile of the Smoke N Sanity Steakhouse Seasoning adds depth and richness to the steak, elevating its taste to new heights. With a blend of savory herbs and spices, this seasoning brings out the meat's natural flavors, resulting in a tantalizing experience for your taste buds. 
When it comes to the chimichurri sauce, Salt, Pepper, and Essence of Garlic Salt provide the perfect touch of garlicky goodness without the high FODMAP content. This versatile seasoning combines the essence of garlic with salt and pepper, creating a flavorful and aromatic addition to the sauce. It infuses the chimichurri with a subtle garlic undertone, enhancing the freshness of the herbs and the tanginess of the vinegar. With Essence of Garlic Salt, you can enjoy the delightful taste of garlic in your chimichurri without compromising your Low FODMAP diet.
By using Smoke 'N Sanity seasonings, you'll take your Low FODMAP steak kabobs to a whole new level of deliciousness. These seasonings add complexity, depth, and that extra touch of flavor that will have you savoring each bite. Elevate your grilling game and bring out the best in your Low FODMAP culinary creations with these exceptional seasonings.
Indulging in a Low FODMAP diet doesn't mean sacrificing flavor and enjoyment. 
These Low FODMAP steak kabobs with chimichurri sauce are a delightful combination of tender steak and a zesty sauce that adds freshness to every bite. Whether you're hosting a summer barbecue or simply looking for a satisfying weeknight meal, these kabobs are sure to impress both your taste buds and your stomach. So fire up the grill and treat yourself to a scrumptious Low FODMAP feast!
Excited to try the delicious Low FODMAP seasonings from Smoke 'N Sanity?! Head to the SnS website and use the coupon code SNSRD15 for 15% off any of their products!
[[ recipeID=recipe-8ljhj0mab, title=Low FODMAP Steak Kabobs with Chimichurri Sauce ]]