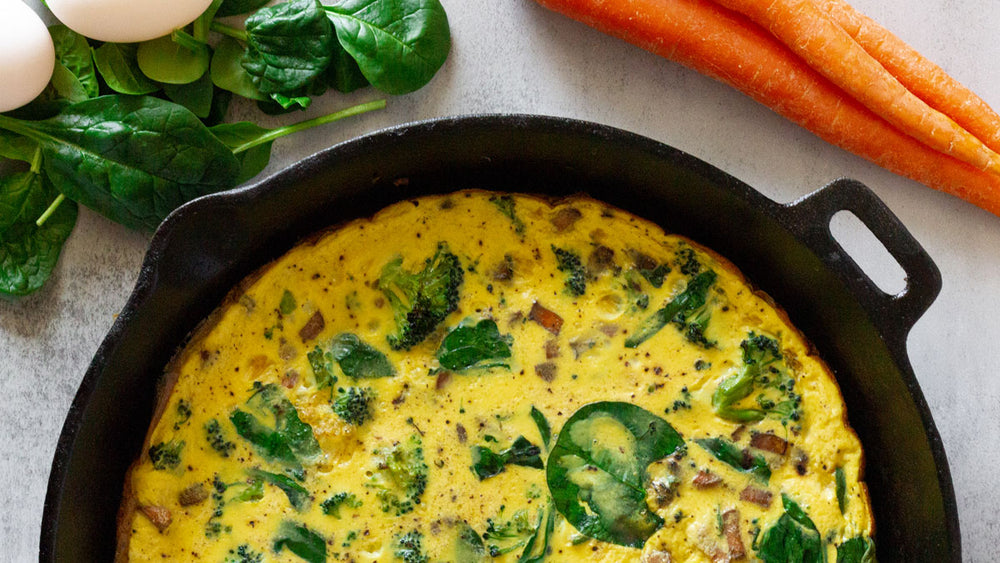 Low FODMAP Spring Vegetable Frittata
RECIPE
Published on Friday, April 07, 2023 by
---
This is a perfect dish for your springtime brunch!
Springtime always brings with it a craving for good food, sunshine, and family gatherings. And what better way is there to bring these three elements together than by hosting a brunch for your loved ones? 
A good brunch can be the perfect excuse to catch up with friends and family while indulging in some delicious food. However, finding the perfect dish can be tricky if you or any of your guests follow a Low FODMAP diet. Fear not, for we have a solution - a Low FODMAP spring vegetable frittata!
Ready in 35 minutes, this colorful Low FODMAP Frittata with spinach, broccoli, and carrots is perfect for serving at your next springtime get-together! 
The Basics
A frittata is a simple Italian dish traditionally made from eggs, milk, and various fillings. It's quick to make, versatile, and easy to customize to any dietary requirements. This Low FODMAP version is perfect for those who are sensitive to certain foods like garlic, onions, and some vegetables.
We recommend using broccoli, carrots, and spinach for this frittata recipe. These vegetables pack a punch of flavor and are Low FODMAP. Additionally, the broccoli adds an extra layer of texture to the dish.
Variations 

 
You can customize the recipe according to your taste and preference. Feel free to add or substitute vegetables for what is in season or use leftover veggies from the previous night! 
Low FODMAP springtime produce: 
Broccoli 

Cabbage 

Carrot

Collard greens 

Kale 

Radish

Spinach 

Swiss chard 

Turnip 
Herbs can be used to add depth of flavor and nutrition to your meals without causing any digestive discomfort. Luckily, there are plenty of Low FODMAP herbs to choose from!
Low FODMAP-friendly herbs: 
Basil

Chives 

Cilantro 

Dill 

Mint 

Parsley 

Rosemary

Sage 

Thyme 
Serving Ideas
To round out your meal, consider serving a side fruit salad, a crisp side salad with a zesty lemon ginger vinaigrette, or some roasted potatoes seasoned with fresh rosemary. Condiments such as salsa or hot sauce also are a great way to top off the entree! With so many delicious options, your Low FODMAP frittata is sure to become a staple in your spring recipe rotation. 
Let's Get Cooking! 
Enjoying a Low FODMAP eating plan doesn't mean compromising delicious meals for digestive health. This spring vegetable frittata is not only Low FODMAP but it's also an easy and versatile way to embrace seasonal and healthy eating with joy. The seasonal veggies give it that extra pop of flavor that makes it perfect for springtime.
As a bonus, this recipe is perfect for breakfast, lunch, or dinner, and can be enjoyed hot or cold. Give it a try, and you may just discover a new favorite dish!
[[ recipeID=recipe-8lfwopch6, title=Low FODMAP Spring Vegetable Frittata ]]