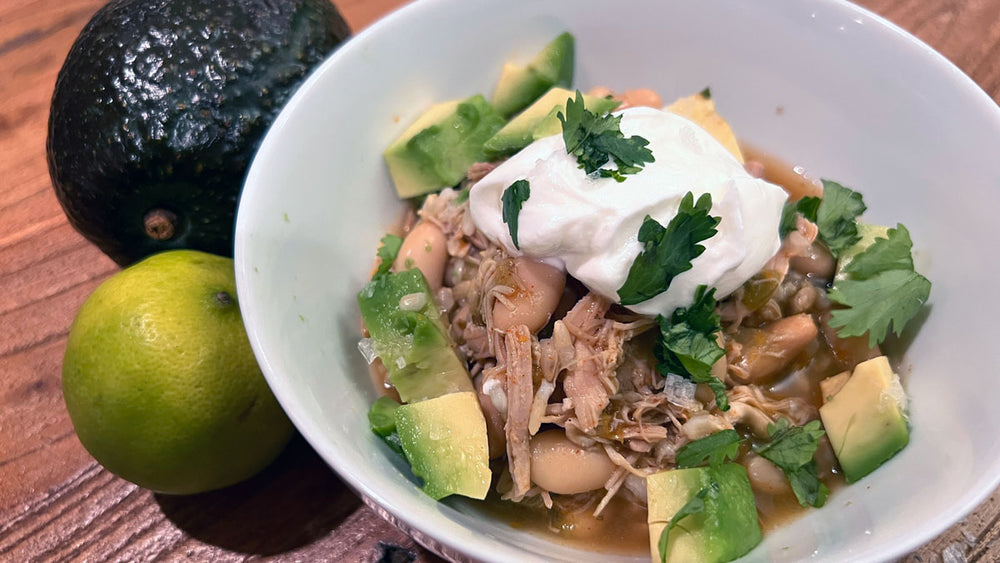 White Chicken Chili
RECIPE
Published on Tuesday, November 29, 2022 by
---
This Chili is Instant Pot, Crockpot, AND Stovetop friendly!
I started making this chili several years ago when I was nursing my twins and one of the girls had a dairy allergy. So, I gave up dairy but didn't want to give up everything creamy. 
Insert this spicy and creamy chicken chili! 
I usually make it in the Instant Pot, but you can also make it in a crockpot or right on the stovetop. 
It is warm, spicy, creamy, and all the things you want in a warm meal on a cold day.
The base of the chili has minimal ingredients and when cooked in one pot, it also has minimal clean-up. Once the chili is cooked, there are so many options for sides and toppings. It is a great meal for feeding a crowd, making in batches to freeze or share with neighbors, or just to enjoy yourself for a few cold days. 
If you like the smell of a delicious meal cooking for hours in your home, go ahead and print, share, or save the recipe for the crockpot version on the recipe card below! If you want to make the Instant Pot or stovetop versions, the ingredients and instructions are included here:
Ingredients:
1.5 pounds of chicken thighs
2 cans of great northern beans
1 onion, chopped
4 cans green chilis (mild or hot, based on your taste)
1 Tb. cumin
1 Tb. chili powder
1 tsp. oregano
1 tsp. salt
1 tsp. paprika
2 cups chicken stock
½ tsp. black pepper
Juice of 1 lime
Chopped cilantro
Optional Toppings and Sides:
Plain Greek yogurt or sour cream
Diced avocado
Lime juice
Cornbread
Corn chips 
Rice
Directions: Instant Pot (IP)
Prep time: 5 minutes
Cook time: about 25 minutes (as IP comes to pressure)
Servings: 6
Dice an onion and put it into an IP.

Add chicken breasts, green chilis, great northern beans (drained and rinsed), all spices, and chicken broth. 

Cover and turn the dial to a "sealed" setting.

Cook on the "pressure cook" setting for 13 minutes.

Release pressure immediately when done cooking.

Remove chicken thighs and set aside.

Remove ¾ cup of beans and broth, and puree until smooth. Add back to the pot of chili.

Shred chicken thighs and add them back into the pot (Tip! Use your hand or stand mixer to shred the chicken. It only takes a minute and will be shredded perfectly to add back into the chili).

Squeeze the juice of 1 lime over top.

Stir and serve hot! 

I love to eat this with a dollop of plain Greek yogurt, cilantro, and diced avocado over a ½ cup of rice. 
Directions: Stovetop
Prep time: 10-15 minutes
Cook time: 30 minutes
Servings: 6
When making on the stovetop, take a little help from the grocery store and buy a precooked rotisserie chicken. Shred it, and set it aside. (If you're up for it, save the bones and make some chicken stock). The precooked chicken makes this a 30-minute meal!
Using a heavy bottom pot or dutch oven, heat 1 Tb. of olive oil and saute your chopped onion. 

Add in all spices and stir until fragrant, about 30 seconds. 

Add in all chilis and chicken broth, and stir to combine. Let simmer for 5 minutes or until slightly boiling. 

Add 1½ cans of great northern beans.

Add shredded chicken and let simmer for 20-25 minutes.

While simmering, take the reserved ½ cup of northern beans and a ¼-½ cup of stock (from the pot) and blend until smooth. Add mixture to the chili and stir. 

Squeeze the juice of 1 lime overtop.

Stir and serve hot!

I love to eat this with a dollop of plain Greek yogurt, cilantro, and diced avocado over a ½ cup of rice.
[[ recipeID=recipe-8lamstqj3, title=Crockpot White Chicken Chili ]]
If you make this one, please leave us some comments!