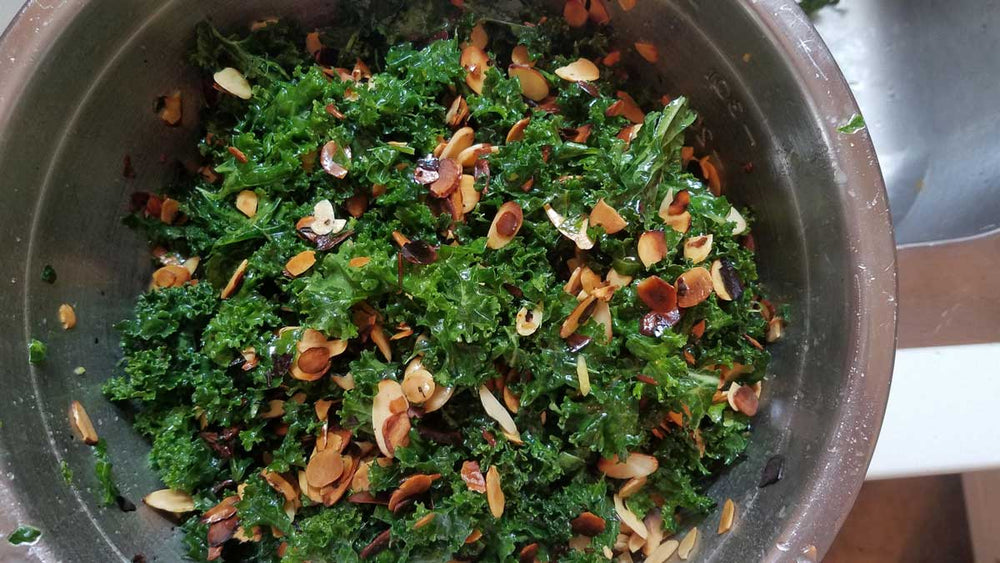 Vibrant Kale Salad with Toasted Almonds: A Healthy Delight
RECIPE
Published on Wednesday, September 27, 2023 by
---
Crunch into Health with this Kale Salad Recipe
Kale is a strangely versatile vegetable that has remained popular despite Jim Gaffigan's veiled threat to throw the bowl back in your face should you brag about serving it. (If you haven't watched his Netflix special Obsessed yet, you're in for a treat. Go watch it immediately. Wait. First, read the rest of this article, and THEN go watch it immediately. Have a laugh! It's good for you. And then make this recipe.)
You've found the right recipe if you crave a crunchy, crispy salad with a little sour and bitter, salty flavor. To make this salad, you'll need to first toast some sliced almonds in a pan for a few minutes until they're fragrant and golden brown.
Kale can be tougher than a stale pretzel bun, so you want to tenderize it for a cold salad. 
To tenderize the kale for this cold salad, you'll need to wash your hands well and really get your back into it. You will work for it, but it's so worth it. The rugged texture of kale allows it to stand up to an overnight in the refrigerator, even sitting in the dressing. 
How do I massage my kale? So glad you asked! 
Place the colander in the sink and run a slow stream of cool water over the kale while you massage it. I like to grab a handful and squeeze it while I tear it apart with the opposite hand. Keep doing that until your forearms get tired.  OK, you don't have to wait that long, but the leaves should be wilty by the time you're done.  
Add this kale salad with toasted almonds to your next salad night or side dish plan, and enjoy these fun alternatives to try:
Vegan or vegetarian options:  

Make it an entrée salad with 1-2 cans of rinsed, drained chickpeas.  

You could also top it with crunchy croutons and diced fresh avocado.

Sauté some crispy marinated tempeh.

Add ½ cup freshly grated parmesan cheese if you don't need the salad to be dairy-free. The cheese adds a great salty appeal.  

Grill a piece of salmon for each person, and now you have a meal. Extra lemon tastes great, squeezed over the whole plate.

Do you like a more peppery flavor? Slice up a red radish and mix that in.

Do you hate kale and all the work in making it tender? Substitute all the kale steps with "buy one large container of salad-ready arugula." Easy!
[[ recipeID=recipe-8lmru1y9o, title=Kale Salad with Toasted Almonds ]]