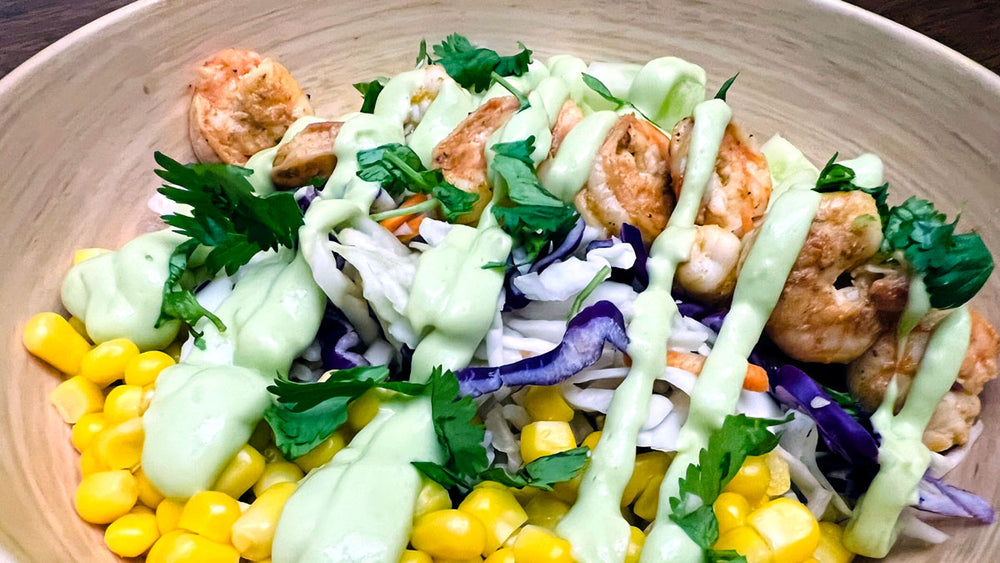 Shrimp Taco Bowls
RECIPE
Published on Thursday, September 08, 2022 by
---
Shrimp tacos are a summer staple, and these taco bowls don't disappoint. 
They have all the components of a shrimp taco, but are a bit lighter (the shrimp is sauteed, not fried) and I've added a few additional vegetables for color, texture and added nutrition. This recipe is GERD friendly and also gluten free. Since the shrimp isn't fried, it also works well for those of us who deal with IBS symptoms. 
Shrimp is one of my favorite proteins, especially in a grain bowl.
It is high in protein and fairly low in calories and fat, which can be a good option. This taco bowl is full of fiber and vitamins as well. I've used brown rice in this recipe, but you could also use white rice or quinoa as the grain. 
I like the bite from brown rice paired with the crispy cabbage, crunchy cucumber and sweet corn. 
The taco seasoning used in this recipe is a homemade combo. It is also customizable to your triggers, so if one of the ingredients does not agree with you, just omit it! You can also use any one of your favorite taco seasoning blends from the grocery store. Just be on the lookout for sodium, as packaged taco seasoning is often very salty. 
The avocado cream is a great source of omega-3 fats and the cool cream is a great balance to the shrimp, especially if you like it on the spicy side. I didn't include sriracha or hot sauce, but you certainly could! Please leave a comment if you try this one out!
[[ recipeID=recipe-9l7f4uxuc, title=Shrimp Taco Bowls ]]