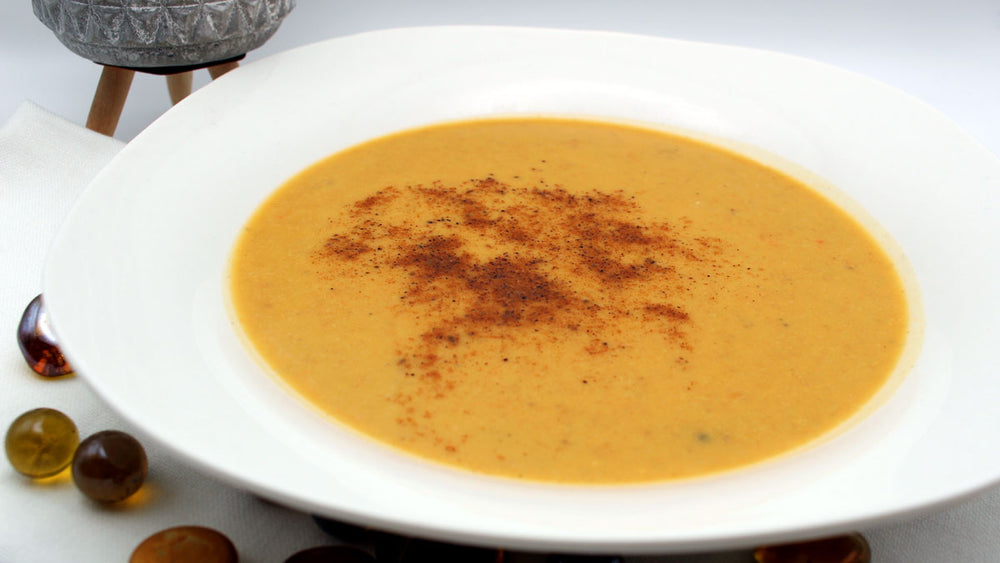 Roasted Butternut Squash Soup
RECIPE
Published on Wednesday, August 24, 2022 by
---
Soups. I LOVE making soups. 
Soups are a great way to "clean" out your pantry and the refrigerator. One of my favorite foods to make soups out of are the butternut squash! 
Butternut squash is a fall gourd but can be purchased year-round. They have a fairly long shelf life, and once cooked freeze really well. The downfall with butternut squash soup is that it can be rather tough to cut, but with a little elbow grease and a sharp knife, we can get the job done.
This is also the reason why I roast the squash before scooping or cutting the insides out. At this point during the squash processing, you can choose to freeze some to use in the future. Around this time of year, I start stocking up on frozen butternut squash, which can be turned into a quick, healthy, meal.
This is a soup that I change every time I make it. 
Butternut squashes can be used with a variety of different flavors. Curry, cinnamon, nutmeg, garlic, the list goes on. For this recipe, I chose to focus on the flavors of fall with some added flavor from the coconut, ginger, and honey.
This soup can be started with the roasting of the squash and carrots the day before. I roast the carrots to get a nice caramel color which enhances the flavor of the soup. Roasting the squash makes it easier to process the squash, and adds extra flavor. When making this soup feel free to throw in any sort of vegetable you'd like, or fruit for that matter! Apples and butternut squash taste really good together.  
[[ recipeID=recipe-9l6v2ebr7, title=Roasted Butternut Squash Soup ]]