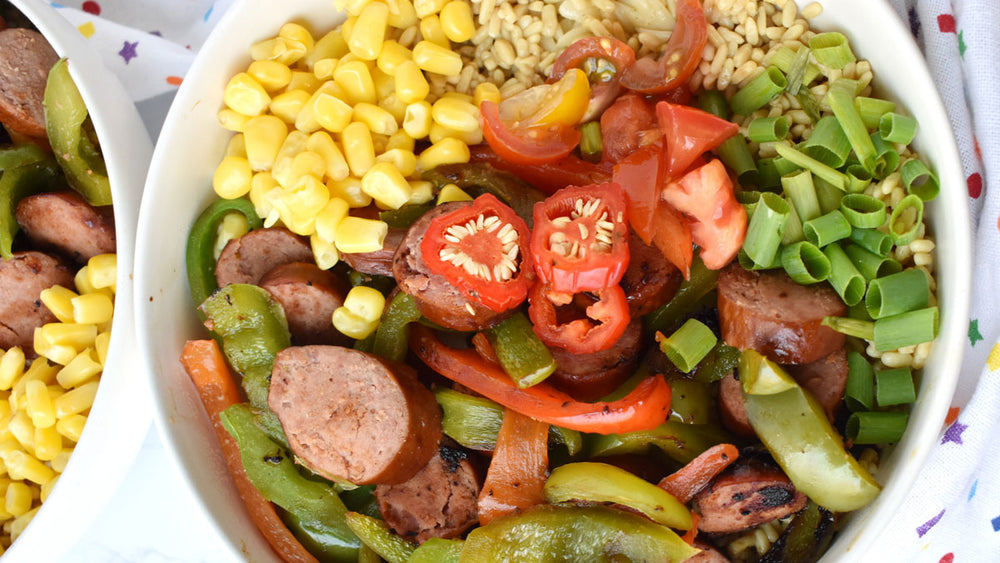 Main Dishes: Cajun Sausage and Rice Bowls
RECIPE
Published on Wednesday, March 02, 2022 by
---
Want dinner ready in about 15 minutes? Make these Cajun Sausage and Rice Bowls! 
They are crazy easy to make and are actually pretty nutritious. Loaded with turkey sausage, brown rice, sautéed peppers, corn, green onions and more! You can make this dish kid-friendly too by leaving out the Cajun seasoning and fresh jalapenos since they can be spicy. Everything else should be pretty kid-friendly. 
How are you going to get dinner on the table in just 15 minutes when you have to make rice? Here are my rice hacks: 
Cook a big bag of rice ahead of time and freeze into sandwich sized bags. When you are ready to eat, just heat in the microwave for 3 minutes or defrost that morning. Delicious brown rice ready in 3 minutes. 

Buy Minute Rice or fully cooked brown rice which saves a lot of time. If you have plenty of time to make rice from scratch or can cook it quickly in an Instant Pot or rice cooker, you can do that too, of course.
Keep this dish Low-FODMAP friendly by skipping the regular onions and garlic in favor of green onions. Using rice instead of pasta and choose a gluten-free turkey sausage. You can skip the fresh jalapenos if they bother you and use pickled jalapenos instead (or skip jalapenos all together). I didn't use beans in this dish either, which are often used in Cajun cooking since beans can bother those with IBS. 
If you want to make these bowls and have GERD- skip the tomatoes and jalapenos since those tend to aggravate GERD symptoms. Also, skip the cayenne pepper in the spice mixture.
[[ recipeID=recipe-9kzmwpifv, title=Cajun Sausage and Rice Bowls ]]
Check out these brown rice options that are ready in a jiff!
Whole Grain Brown Ready Rice (8.8 oz., 6 Pack)