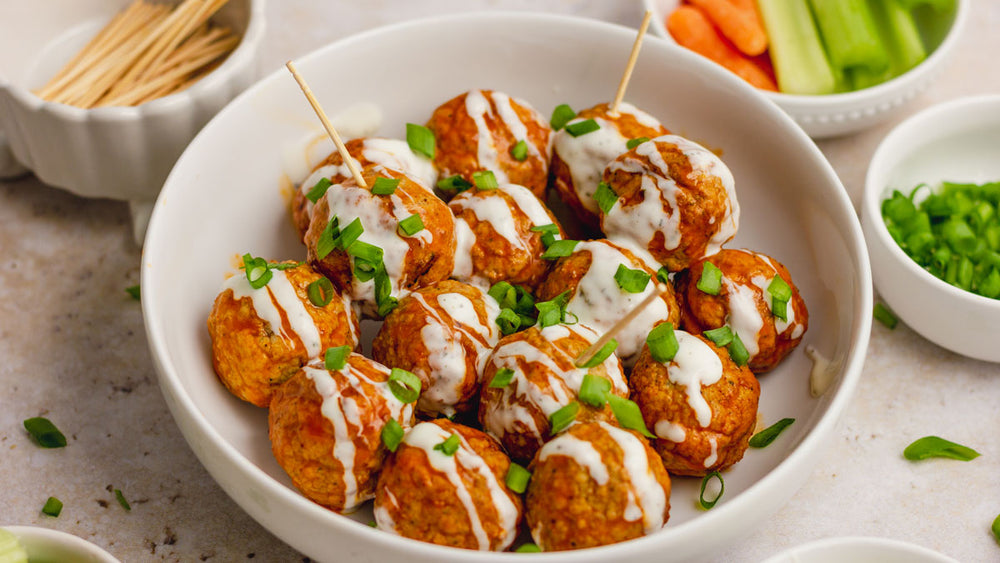 Low FODMAP Buffalo Turkey Meatballs
RECIPE
Published on Friday, September 08, 2023 by
---
Crafting Perfect Low FODMAP Buffalo Turkey Meatballs for Game Day Delights
As the excitement of football season kicks into high gear, it's time to gear up for game-day gatherings and tailgate feasts. Amidst the cheers and friends, finding the perfect appetizer that aligns with your dietary needs can be a touchdown of its own. Enter the ultimate game changer, Low FODMAP Buffalo Turkey Meatballs. 
These flavor-packed bites not only cater to sensitive stomachs but also deliver the unbeatable tangy zest of buffalo sauce. Get ready to score big with a dish that promises both taste and digestive ease, making it the ultimate star of your Low FODMAP game day spread.
Crafting the Perfect Meatball
Crafting the perfect meatball involves a combination of Low FODMAP ingredients and techniques. It begins with selecting the appropriate type of ground meat, such as lean ground turkey or beef, which contributes to both flavor and texture. Adding binding agents like breadcrumbs is essential to achieve the desired consistency. They absorb moisture, ensuring the meatball holds its shape during cooking. 
The careful incorporation of seasonings, like buffalo sauce and green onions for flavor depth and a pinch of salt and ground black pepper for balance, is crucial. Proper mixing is key to evenly distributing these elements, ensuring a delicious flavor in each bite. Shaping the mixture into uniform balls promotes consistent cooking and presentation. The result is a perfectly crafted meatball that is tender, flavorful, and satisfying to every palate.
Low FODMAP-Friendly Buffalo Sauce 
What makes these Buffalo Turkey Meatballs truly remarkable is the fact that even the buffalo sauce plays by the Low FODMAP rules. This is a game-changer for those steering clear of certain FODMAPs due to digestive sensitivities. You can whip up your own Low FODMAP buffalo sauce with a simple blend of hot sauce and butter. This dynamic duo brings the signature tangy kick and ensures a delicious partnership with your dietary needs. So, with each coated meatball, you're savoring not just flavor but the peace of mind that comes with tummy-friendly indulgence.
Versatility and Enjoyment
One of the most appealing aspects of Buffalo Turkey Meatballs is their versatility, making them a staple for a range of occasions and preferences. As an appetizer, they capture guests' attention with their savory yet tangy kick, making them an ideal choice for game-day parties. When featured as a main course, they satisfy with their combination of lean protein and bold flavor. In the realm of meal prep, these meatballs offer a convenient solution for those seeking flavorful yet compliant options. The savory burst of buffalo-style goodness with each bite reminds us that food can be enjoyed while being digestive-friendly!
Serving Ideas to Pair With Buffalo Turkey Meatballs
When crafting a Low FODMAP-friendly spread to accompany your Buffalo Turkey Meatballs, the possibilities are as exciting as they are delicious. Pair these zesty meatballs with a crisp side salad with fresh greens, crunchy carrot sticks, celery, and cool cucumber slices. If you're craving a heartier option, roasted potatoes or seasoned sweet potato wedges offer a satisfying contrast to the bold flavors of the meatballs. 
For a touch of creamy indulgence, opt for a Low FODMAP ranch dip, perfect for dipping and dunking your way to total satisfaction. By pairing your meatballs with these sides, you're creating a well-rounded meal that's both flavorful and easy on the digestive system.
[[ recipeID=recipe-8llmgx1vx, title=Low FODMAP Buffalo Turkey Meatballs ]]