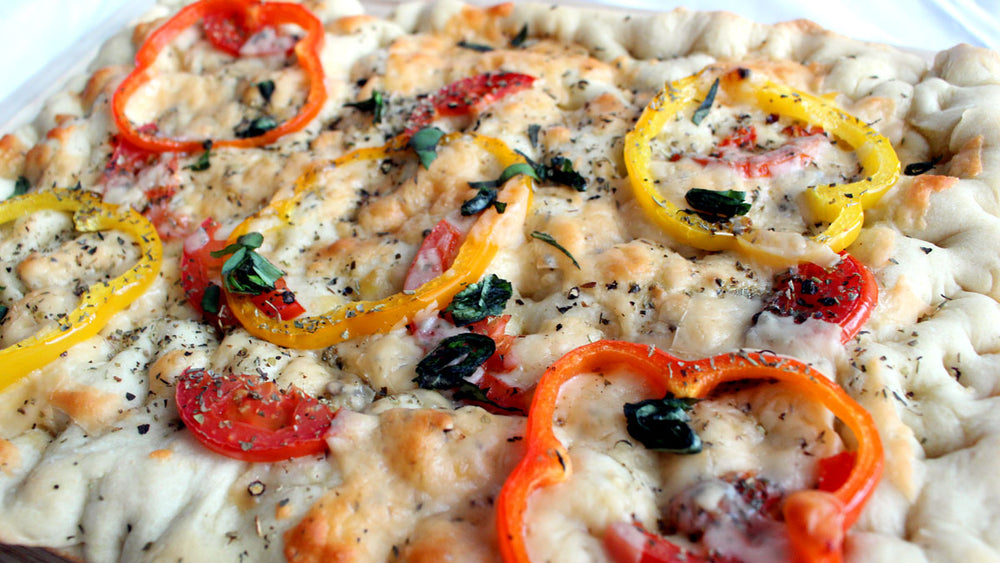 Homemade Focaccia Bread
RECIPE
Published on Wednesday, May 03, 2023 by
---
Focaccia Bread is Pizza's grandfather.  
But there is a difference between pizza-type focaccia and bread-type focaccia. The bread type has a chance to rise one more time, after rolling it out onto the baking sheet. This bread is one of the simplest to make. It's a yeast bread, but the difficulty level is that of a quick bread (much easier!).  
This dough recipe is my basic dough recipe. 
I use it for pizza, rolls, breadsticks, and focaccia. The only difference is the resting and proofing times, to get the desired results. Bread can be finicky. The humidity and the temperature outside (as well as in your kitchen) can impact yeast bread. Yeast is alive and thrives in moist environments at about 99-105℉. The water can't be too cold or too hot. If it's too cold, the yeast won't "wake" up; if it's too hot, the yeast will die. I recommend using a kitchen thermometer to check the temperature of the water before it's added to the yeast. Sugar is the yeast's food, whereas salt on the other hand kills yeast. There is salt in this recipe, and is in all bread recipes, to not kill the yeast, the ingredients must be put in the mixer in a specific order.  
This is a great recipe to make to serve at gatherings!
I recommend topping the focaccia bread with parmesan cheese and fresh herbs, but you can put whatever you'd like on it. Bell peppers, mushrooms, basil, spinach, zucchini, olives, and artichokes are good options, but the possibilities are endless. You could even make this a sweet focaccia by adding fruit!
Just make sure that when you add ingredients such as fresh herbs and spinach you are waiting until the bread has cooked at least halfway through to add them, or wait until the bread has finished baking, so they do not burn.
[[ recipeID=recipe-8lfvgu9oq, title=Homemade Focaccia Bread ]]