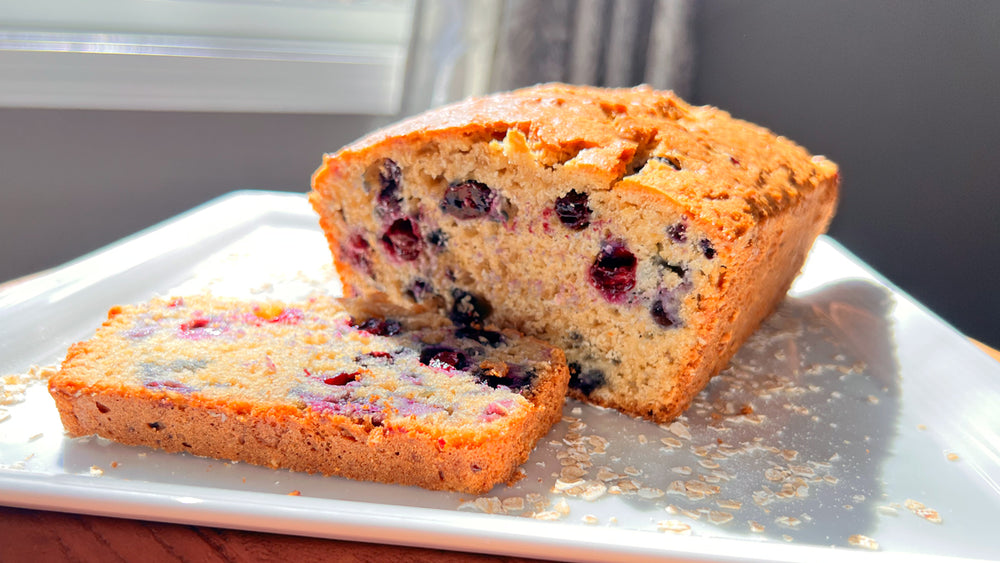 Friendly Side Dishes: Oatmeal Blueberry Bread
RECIPE
Published on Wednesday, April 13, 2022 by
---
Baking this bread is just like inhaling warmth and happiness.
I love making quick bread because you can mix the ingredients fast, and they bake, well, quickly. The flavor combinations are endless, and I can usually create something that everyone enjoys. This quick bread is a great treat for those with IBS and/or those following the Low-FODMAP diet. It is hearty, thanks to the oats and oat flour, and has a light sweetness from the blueberries. (Just enough berries to sweeten the bread without any poor side effects). 
This quick bread makes a great addition to breakfast, is delicious as an afternoon snack, and tastes even better on day two! The oats are a good source of fiber, and the blueberries provide vitamins C and K, plus more antioxidants than many other fruits. 
Ingredients & Notes:
1 ½ cups gluten-free all-purpose flour (Examples: King Arthur Gluten Free AP Flour or Bob's Red Mill 1-1 Gluten Free Baking Flour)

½ C. oat flour (Bob's Red Mill GF Oat Flour or grind ½ C. GF oats)

1 C. rolled oats (can also use quick cooking)

½ C. sugar

½ tsp. cinnamon

1 ½ tsp. GF baking powder

½ tsp. baking soda

¼ tsp. salt

¾ cup milk or milk alternative (I prefer almond milk. You can also sub soy milk made from soy protein,

but I would not recommend oat milk

)

½ C. canola or other neutral cooking oil

2 large eggs

1 ½ C. blueberries (Fresh are best here. Frozen blueberries

tend to make the bread too wet.

)
I hope you give this bread a try and enjoy every bite! I recommend eating it toasted with a little butter. You could even pair this oatmeal blueberry bread with a nice soup, such as a nice Zuppa Toscana soup or a light Chicken Lemon soup. Enjoy!
[[ recipeID=recipe-9l1ascmbw, title=Oatmeal Blueberry Bread ]]
Try these products when making a batch of this delicious bread:
Gluten-Free All Purpose Flour (24 oz)