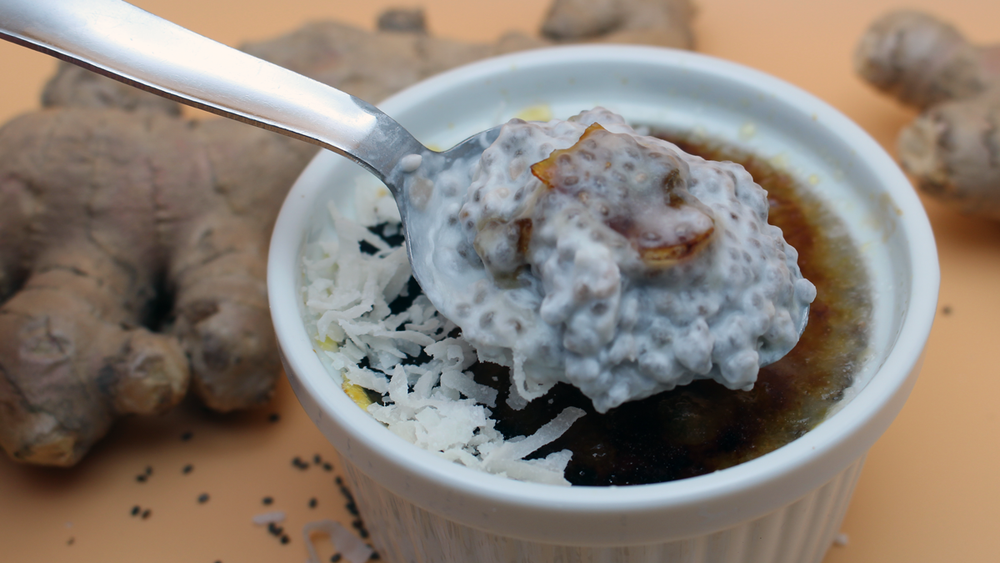 Coconut Ginger Chia Creme Brulee
RECIPE
Published on Thursday, January 19, 2023 by
---
This is the first time I have ever made a non-dairy creme brulee.  
Creme brulee means scorched cream! I was so impressed with the creaminess of the chia pudding that I thought, why not put some sugar on top and caramelize it with a torch? 
Voilà! A dairy-free, healthy, delicious, dessert.  
These super seeds have been used for 1000s of years! Dating back to the Ancient Aztecs and Mayans. They are also packed full of protein and fiber, which help in keeping your stomach feeling full for longer. This is a dessert option that won't leave you still feeling hungry.
Le Cuisinier Royal et Bourgeois written by François Massialot, and published in 1691, was the first written record of Creme Brulee. This dessert is still very popular today. Traditional creme brulee starts by making a creme Anglaise. Which is basically a pastry cream but not thickened nor cooked as long. The creme Anglaise is then baked in a water bath for anywhere from 1-2 hours. 
The baking of the custard with creme brulee can be quite nerve-racking to get it just right, but we don't have to worry about that with this recipe. There is no baking at all. The only step that takes a lot of time is the initial soaking of the chia seeds, which takes 24 hours.
How to make simple syrup at home: Take 1⁄2 cup of water and 1⁄2 cup of sugar. In a pan over medium heat, add sugar to the water and stir until the sugar has completely evaporated. Add your desired flavoring to the cooled syrup and keep sealed in a container in the refrigerator for up to 1 month.
If you are curious about the French Chef François Massialot, his works Le Cuisinier roïal et Bourgeois and Nouvelle instructions pour les confitures, les liqueurs, et les fruits are available in English in the book The Court and Country Cook (originally published in 1972).
[[ recipeID=recipe-8lbxr1rxi, title=Coconut Ginger Chia Creme Brulee ]]
Chia Seed History and origin | grand teton ancient grains. (n.d.). Retrieved December 14, 2022, from

https://www.ancientgrains.com/black-chia-seeds/chia-seed-history-and-origin/