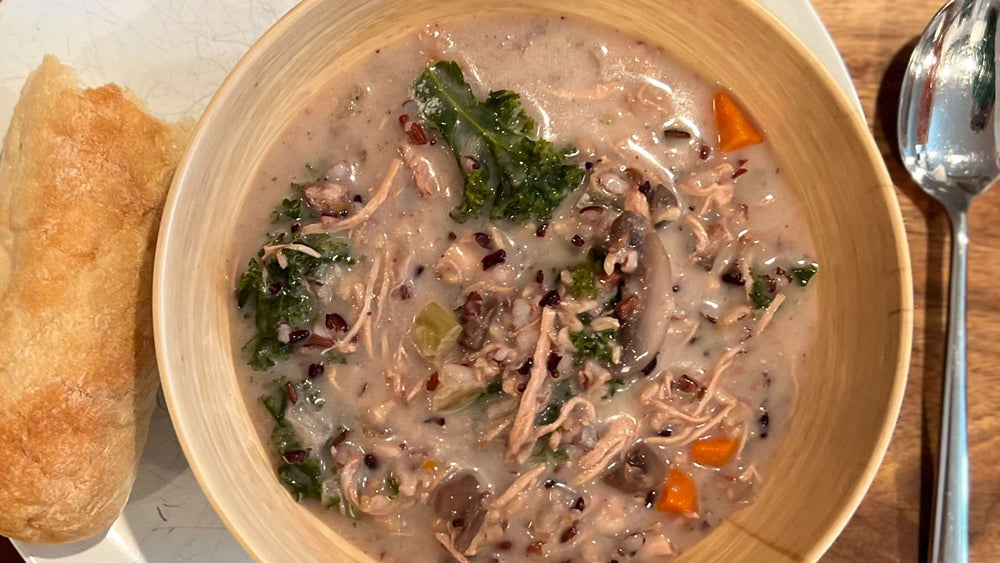 Chicken and Wild Rice Soup
RECIPE
Published on Wednesday, December 14, 2022 by
---
Soup is a great meal during these colder months, and this chicken and wild rice soup is both hearty and filling.
This recipe is GERD and IBS-friendly and can be made dairy-free if necessary. Simply substitute the whole milk with coconut milk.
The wild rice adds a heartiness to the soup, which is a nice change from a traditional chicken noodle soup. The combination of vegetables offers plenty of vitamins and also a touch of sweetness. I really like the addition of kale as well, to add even more fiber and flavor. 
Mushrooms, especially when exposed to UV light or sunlight, are a great food source of Vitamin D and make this soup a one-pot meal. I like to use baby bella mushrooms because they hold their firm texture, but you can also use button mushrooms. 
This soup is delicious paired with some warm, fresh bread. But, it is such a filling soup it can be enjoyed on its own as a complete meal!
I made this recipe in the Instant Pot and Crockpot, and it works great in both. Included are the ingredients for this delicious and cozy soup, as well as the instructions to make the soup in the Instant Pot, or simply print, share, or save the Crockpot version on the recipe card below!
Ingredients:
1 lb. chicken thighs
1 onion, chopped
3 carrots, peeled and chopped
2 stalks celery
2 cups chopped mushrooms
1 clove garlic, diced (optional)
1 cup wild rice
4 cups chicken broth
2 cups water
1 tsp salt
½ tsp black pepper (optional)
1 tsp oregano
1 bay leaf
½ cup whole milk
3 cups kale
Directions (Instant Pot):
Prep time: <10 minutes
Cook time: 22 minutes at high pressure
Serves: 8
Dice onion, carrots, and celery (all similar in size for even cooking) and put them into your IP

.

Clean mushrooms (wipe them down with a damp cloth, do not run them under water!), dice, and put them into your IP. You can use button mushrooms, but I prefer baby bellas because they hold their firm texture and add a heartiness to the soup.

Add all other ingredients (except whole milk and kale), give a stir, and lock the lid.

Cook on high pressure for 22 minutes.

Let steam naturally release for 5-10 minutes, then unseal the IP.

Remove the chicken from the soup, set it aside, and shred it.

Add milk and kale to the soup, and stir to combine.

Add chicken back in and serve.
[[ recipeID=recipe-8lb5gpvq9, title=Crockpot Chicken and Wild Rice Soup ]]
7 health benefits of mushrooms. https://connect.uclahealth.org/. (n.d.). Retrieved December 1, 2022, from

https://connect.uclahealth.org/2022/01/24/7-health-benefits-of-mushrooms/