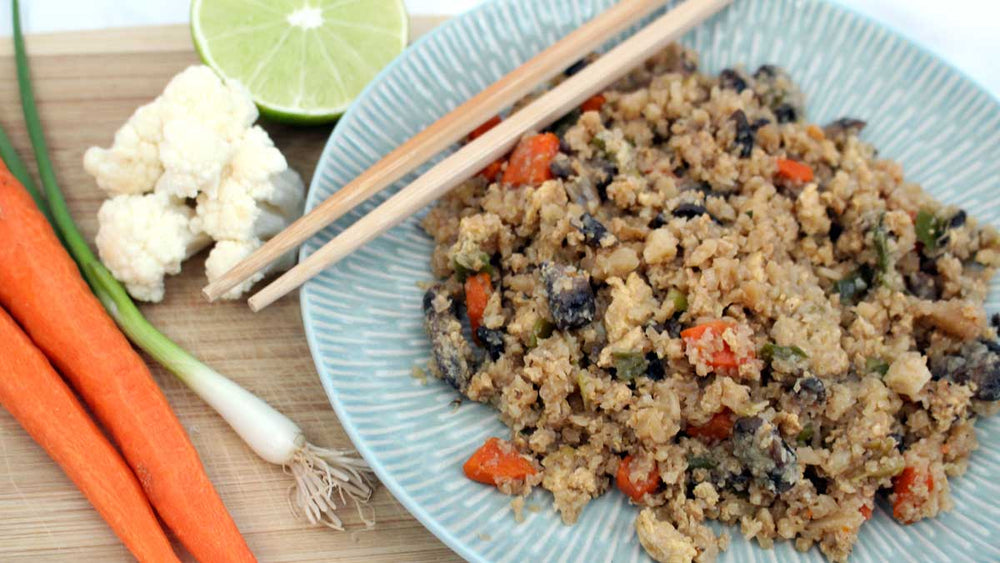 Cauliflower Fried Rice
RECIPE
Published on Tuesday, December 27, 2022 by
---
A new spin on a classic recipe!
One of the first dishes that I had to cook in one of my beginning classes in culinary school was Thai Fried Rice. It was love at first bite! The flavors, the aromas, and even the technique used in cooking the rice fueled my passion for cooking and creating different recipes.  
This recipe replaces the traditional rice with minced fresh cauliflower. 
Cauliflower is a hearty vegetable and is available year-round. Cauliflower is loaded with nutrients, especially vitamin C. This recipe calls for the additional vegetables of carrots, mushrooms, onion, and jalapeno, but these are completely customizable depending on your food preferences and dietary triggers. Some vegetables that would be great additions to this recipe include bell peppers, celery, green peas, and/or corn. 
Cauliflower, when minced in a food processor, resembles white rice. If you don't have a food processor at home, they sell frozen cauliflower "rice" at most grocery stores or you can use a cheese grater to mince your cauliflower. Cauliflower, like rice, doesn't have a super strong flavor, so it takes on whatever flavor you are pairing it with. For this recipe, I am sticking with the flavors I fell in love with when I first made it, Thai. You could also add any sort of meat protein to this dish as well. I recommend pork, chicken, shrimp, or even steak!
Pro-Tip for This Recipe:
Depending on how big your food processor is, it might take several batches to get all the cauliflower minced. Once in the food processor don't turn it on full blast. Slowly mince the vegetable, you don't want it to turn accidentally into a paste.
[[ recipeID=recipe-8lbkyzcxg, title=Cauliflower Fried Rice ]]